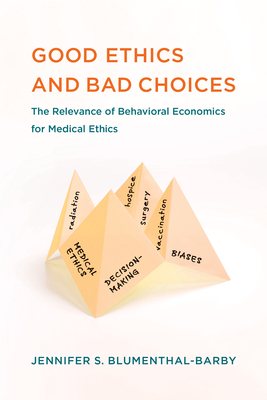 Good Ethics and Bad Choices: The Relevance of Behavioral Economics for Medical Ethics (Basic Bioethics)
Publication Date:
August 3rd, 2021
The MIT Press Bookstore
1 on hand, as of Dec 8 10:45am
(BUSIN)
On Our Shelves Now
Description
An analysis of how findings in behavioral economics challenge fundamental assumptions of medical ethics, integrating the latest research in both fields.
Bioethicists have long argued for rational persuasion to help patients with medical decisions. But the findings of behavioral economics—popularized in Thaler and Sunstein's Nudge and other books—show that arguments depending on rational thinking are unlikely to be successful and even that the idea of purely rational persuasion may be a fiction. In Good Ethics and Bad Choices, Jennifer Blumenthal-Barby examines how behavioral economics challenges some of the most fundamental tenets of medical ethics. She not only integrates the latest research from both fields but also provides examples of how physicians apply concepts of behavioral economics in practice.
            Blumenthal-Barby analyzes ethical issues raised by "nudging" patient decision making and argues that the practice can improve patient decisions, prevent harm, and perhaps enhance autonomy. She then offers a more detailed ethical analysis of further questions that arise, including whether nudging amounts to manipulation, to what extent and at what point these techniques should be used, when and how their use would be wrong, and whether transparency about their use is required. She provides a snapshot of nudging "in the weeds," reporting on practices she observed in clinical settings including psychiatry, pediatric critical care, and oncology. Warning that there is no "single, simple account of the ethics of nudging," Blumenthal-Barby offers a qualified defense, arguing that a nudge can be justified in part by the extent to which it makes patients better off.
Praise for Good Ethics and Bad Choices: The Relevance of Behavioral Economics for Medical Ethics (Basic Bioethics)
"Blumenthal-Barby (Baylor College of Medicine) offers a fascinating exploration [ . . . . ] The ensuing discussions will be juicy."
—Choice
"[T]his is a great book and the discussion is nuanced and often very convincing....Any readers interested in behavioral economics and its relevance for medical ethics—whether they have previous experience with medical ethics literature or not—will be able to understand and make use of this book."
—American Journal of Bioethics
"Good Ethics and Bad Choices is a very clear and easy to read examination of nudging.... Chapter 1 introduces the reader to behavioural economics for the purposes of the book's argument; however, it also stands alone as a good introduction to the field. It is a great chapter to recommend to people (students, say) who haven't come across this literature before, and I have already put it to this use myself."
—Bioethics​
"An admirable treatment....clearly written and engaging....should be of general interest to philosophers, especially ethicists, political philosophers, and those working on agency, and even those thinking and writing on relatively esoteric topics within these areas. This is because the insights offered up by the decision sciences, along with those of philosophers like Blumenthal-Barby who have taken up their results, confront us with difficult, perennial philosophical questions about the
kinds of beings we are, where our good lies, and how best to live with one another."
—Ethics