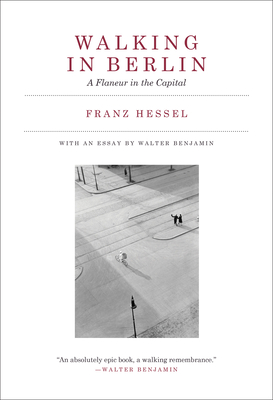 Walking in Berlin: A Flaneur in the Capital
Publication Date:
December 8th, 2020
Special Order - Subject to Availability
Description
The first English translation of a lost classic that reinvents the flaneur in Berlin.
Franz Hessel (1880–1941), a German-born writer, grew up in Berlin, studied in Munich, and then lived in Paris, where he moved in artistic and literary circles. His relationship with the fashion journalist Helen Grund was the inspiration for Henri-Pierre Roche's novel Jules et Jim (made into a celebrated 1962 film by Francois Truffaut). In collaboration with Walter Benjamin, Hessel reinvented the Parisian figure of the flaneur. This 1929 book—here in its first English translation—offers Hessel's version of a flaneur in Berlin.
In Walking in Berlin, Hessel captures the rhythm of Weimar-era Berlin, recording the seismic shifts in German culture. Nearly all of the essays take the form of a walk or outing, focusing on either a theme or part of the city, and many end at a theater, cinema, or club. Hessel deftly weaves the past with the present, walking through the city's history as well as its neighborhoods. Even today, his walks in the city, from the Alexanderplatz to Kreuzberg, can guide would-be flaneurs.
Walking in Berlin is a lost classic, known mainly because of Hessel's connection to Benjamin but now introduced to readers of English. Walking in Berlin was a central model for Benjamin's Arcades Project and remains a classic of "walking literature" that ranges from Surrealist perambulation to Situationist "psychogeography." This MIT Press edition includes the complete text in translation as well as Benjamin's essay on Walking in Berlin, originally written as a review of the book's original edition.
"An absolutely epic book, a walking remembrance."
—Walter Benjamin
Praise for Walking in Berlin: A Flaneur in the Capital
"Hessel describes the small joys and ephemeral pleasures of big-city life in the age of commodity display. The Berlin that comes alive on these pages was destroyed in the last world war, which took as its victims both Hessel and his comrade in flanerie, Walter Benjamin. Hence the poignancy of this beautifully written book. Today we know the fragility of urban dreamworlds, drawn into the orbit of fashion's temporality. The urban pleasures captured here come to us with a sense of foreboding." – Susan Buck-Morss, Distinguished Professor, CUNY Graduate Center
"This is a lively translation of Franz Hessel's literary peregrinations through Weimar Berlin, as he takes in the historically saturated sights and sounds of the most self-consciously modern of the early twentieth-century metropolises, from its boulevards, parks, cafés, and courtyards to its department stores, theaters, dance halls, and slaughterhouses." – Howard Eiland, Literature Section, MIT; cotranslator of The Arcades Project
"Hessel's psychic geography, channeled by subterranean laws, sees neon and reflective glass though the eyes of a lover of antiquity. His Pantheon — the gasometer in Wilmersdorf. Drifting us through a Berlin we know and no longer know, we move as Hessel in search of lost or other types of elsewhere." – Esther Leslie, Professor of Political Aesthetics, Birkbeck, University of London