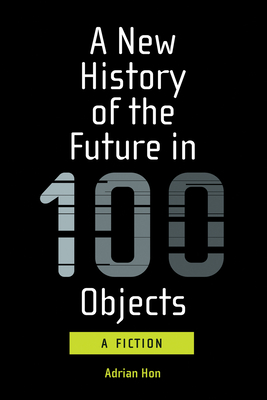 A New History of the Future in 100 Objects: A Fiction
Publication Date:
October 6th, 2020
The MIT Press Bookstore
1 on hand, as of Dec 8 10:45am
(SCIFI)
On Our Shelves Now
Description
Imagining the history of the twenty-first century through its artifacts, from silent messaging systems to artificial worlds on asteroids.
In the year 2082, a curator looks back at the twenty-first century, offering a history of the era through a series of objects and artifacts. He reminisces about the power of connectivity, which was reinforced by such technologies as silent messaging—wearable computers that relay subvocal communication; recalls the Fourth Great Awakening, when a regimen of pills could make someone virtuous; and notes disapprovingly the use of locked interrogation, which delivers "enhanced interrogation" simulations via virtual reality. The unnamed curator quotes from a self-help guide to making friends with "posthumans," describes the establishment of artificial worlds on asteroids, and recounts pro-democracy movements in epistocratic states. In A New History of the Future in 100 Objects, Adrian Hon constructs a possible future by imagining the things it might leave in its wake.
Many of these things are just an update or two away: improved ankle monitors, for example, and deliverbots. Others may be the logical conclusions of current trends—"downvote" networks that identify and erase undesirables, and Glyphish, an emoticon-based language that supersedes the written word. More benign are Braid Collective, which provides financial support for artists, and Rechartered Cities, which invites immigrants to revitalize urban areas hollowed out by changing demographics. With this engaging and ingenious work, Hon leads the way into an imagined future while offering readers a new perspective on the present.
Praise for A New History of the Future in 100 Objects: A Fiction
"Futurists and science fiction die-hards will delight in this impressive feat of imagination."
—Publishers Weekly