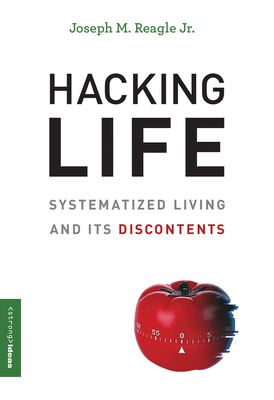 Hacking Life: Systematized Living and Its Discontents (Strong Ideas)
Publication Date:
February 18th, 2020
The MIT Press Bookstore
1 on hand, as of Sep 21 10:34am
(DIGST)
On Our Shelves Now
Description
In an effort to keep up with a world of too much, life hackers sometimes risk going too far.
Life hackers track and analyze the food they eat, the hours they sleep, the money they spend, and how they're feeling on any given day. They share tips on the most efficient ways to tie shoelaces and load the dishwasher; they employ a tomato-shaped kitchen timer as a time-management tool.They see everything as a system composed of parts that can be decomposed and recomposed, with algorithmic rules that can be understood, optimized, and subverted. In Hacking Life, Joseph Reagle examines these attempts to systematize living and finds that they are the latest in a long series of self-improvement methods. Life hacking, he writes, is self-help for the digital age's creative class.
Reagle chronicles the history of life hacking, from Benjamin Franklin's Poor Richard's Almanack through Stephen Covey's 7 Habits of Highly Effective People and Timothy Ferriss's The 4-Hour Workweek. He describes personal outsourcing, polyphasic sleep, the quantified self movement, and hacks for pickup artists. Life hacks can be useful, useless, and sometimes harmful (for example, if you treat others as cogs in your machine). Life hacks have strengths and weaknesses, which are sometimes like two sides of a coin: being efficient is not the same thing as being effective; being precious about minimalism does not mean you are living life unfettered; and compulsively checking your vital signs is its own sort of illness. With Hacking Life, Reagle sheds light on a question even non-hackers ponder: what does it mean to live a good life in the new millennium?
Praise for Hacking Life: Systematized Living and Its Discontents (Strong Ideas)
This insightful, evenhanded book... delves into the motivations and mindset of "life hackers,".... [a] lively, well-written take.—Publishers Weekly—
The book not only lays bare an increasingly popular ethos of our time, but also exposes the layers of exploitation it potentially engenders.... Insightful, and simultaneously disturbing.
—LSE Review of Books—
A comprehensive look at the recent history and major personalities (also known as "the Geeks and the Gurus") associated with the emergent phenomenon known as "life hacking."
—Science—
Hacking Life is to be welcomed as a useful meditation on the neoliberal culture of our time and the kinds of selves we are rapidly becoming in this digital age.
—Times Higher Education—
Life hacking was (and is), as Reagle explains, a pursuit of the "creative class," a product of privilege, and sometimes a disease of it.
—Slate—