Discounted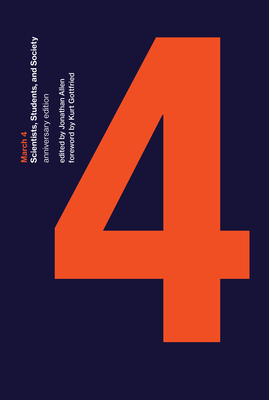 March 4, anniversary edition: Scientists, Students, and Society
Previous price:

$30.00
Current price:

$24.95
Publication Date:
February 19th, 2019
The MIT Press Bookstore
2 on hand, as of Sep 26 1:27pm
(STS)
On Our Shelves Now
Description
Scientists debate the role of scientific research in the military-industrial complex and consider the complicity of academic science in American wars.
On March 4, 1969, MIT faculty and students joined together for an extraordinary day of protest. Growing out of the MIT community's anguish over the Vietnam War and concern over the perceived complicity of academic science with the American war machine, the events of March 4 and the days following were a "positive protest"—a forum not only for addressing political and moral priorities but also for mapping out a course of action. Soon afterward, some of the participants founded the Union of Concerned Scientists. This book documents the March 4 protest with transcripts of talks and panel discussions. Speakers included Noam Chomsky, Howard Zinn, Lionel Trilling, and Nobel Laureate George Wald, whose memorable speech, "A Generation in Search of a Future," was widely circulated. Topics of discussion ranged from general considerations of the intellectuals' political responsibility to specific comments on the Vietnam War and nuclear disarmament.
This fiftieth anniversary edition adds a foreword by Kurt Gottfried, a physicist, participant in the March 4 protest, and cofounder of the Union of Concerned Scientists. He writes, forcefully and hopefully, "Fifty years ago, a remarkable awakening was occurring among American scientists about their role in society. This volume offers a fascinating snapshot of that moment on March 4, 1969, and the activities and discussions collected here remain relevant and resonant today." In an era when many politicians routinely devalue science, we can take inspiration from the March 4 protests.
About the Author
Jonathan Allen joined the faculty of MIT in 1968; from 1981 until his death in 2000, he was Director of MIT's Research Laboratory of Electronics (RLE).
Kurt Gottfried, a cofounder of the Union of Concerned Scientists, is Professor Emeritus of Physics at Cornell University. He was a Visiting Professor at MIT from 1968 to 1969.
Noam Chomsky is Institute Professor and Professor of Linguistics (Emeritus) at MIT and the author of many influential books on linguistics, including Aspects of the Theory of Syntax and The Minimalist Program, both published by the MIT Press.