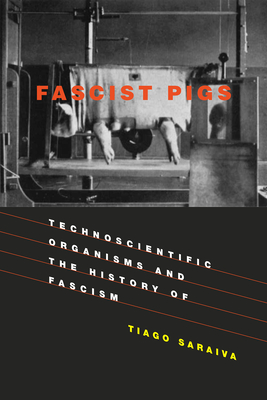 Fascist Pigs: Technoscientific Organisms and the History of Fascism (Inside Technology)
Publication Date:
August 28th, 2018
The MIT Press Bookstore
3 on hand, as of Dec 5 4:07pm
(STS)
On Our Shelves Now
Description
How the breeding of new animals and plants was central to fascist regimes in Italy, Portugal, and Germany and to their imperial expansion.
In the fascist regimes of Mussolini's Italy, Salazar's Portugal, and Hitler's Germany, the first mass mobilizations involved wheat engineered to take advantage of chemical fertilizers, potatoes resistant to late blight, and pigs that thrived on national produce. Food independence was an early goal of fascism; indeed, as Tiago Saraiva writes in Fascist Pigs, fascists were obsessed with projects to feed the national body from the national soil. Saraiva shows how such technoscientific organisms as specially bred wheat and pigs became important elements in the institutionalization and expansion of fascist regimes. The pigs, the potatoes, and the wheat embodied fascism. In Nazi Germany, only plants and animals conforming to the new national standards would be allowed to reproduce. Pigs that didn't efficiently convert German-grown potatoes into pork and lard were eliminated.
Saraiva describes national campaigns that intertwined the work of geneticists with new state bureaucracies; discusses fascist empires, considering forced labor on coffee, rubber, and cotton in Ethiopia, Mozambique, and Eastern Europe; and explores fascist genocides, following Karakul sheep from a laboratory in Germany to Eastern Europe, Libya, Ethiopia, and Angola.
Saraiva's highly original account—the first systematic study of the relation between science and fascism—argues that the "back to the land" aspect of fascism should be understood as a modernist experiment involving geneticists and their organisms, mass propaganda, overgrown bureaucracy, and violent colonialism.
Praise for Fascist Pigs: Technoscientific Organisms and the History of Fascism (Inside Technology)
Exemplary.—Technology and Culture—
...illuminates our understanding of the history of fascism and the history of science in the twentieth century.
—American Historical Review—
Saraiva examines how the breeding and growing of animals (pigs and sheep) and plants (potatoes, wheat, and coffee) helped to institutionalize fascism and contributed to the materialization of fascist ideology.
—Oxford Journal of Environmental History—