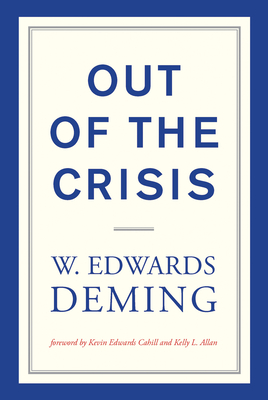 Out of the Crisis, reissue
Publication Date:
October 16th, 2018
Usually Ships in 1 to 5 Days
Description
Essential reading for managers and leaders based on Deming's famous 14 Points for Management
This is the classic and deeply influential work on business management, leadership, problem solving, and quality control, reissued for readers today
Translated into 12 languages and continuously in print since its original publication in 1982, this highly influential framework presents the foundations for a completely transformational way to lead and manage people, processes, and resources. 
According to Deming, American company management's failure to plan for the future brings about loss of market, which brings about loss of jobs. Management must be judged not only by the quarterly dividend, but by innovative plans to:
• stay in business
• protect investment
• ensure future dividends
• provide more jobs through improved product and service
In simple, direct language, Deming explains the principles of management transformation and how to apply them. This edition includes a foreword by Deming's grandson, Kevin Edwards Cahill, and Kelly Allan, business consultant and Deming expert.
"Long-term commitment to new learning and new philosophy is required of any management that seeks transformation. The timid and the fainthearted, and the people that expect quick results, are doomed to disappointment."
—W. Edwards Deming, Out of the Crisis
About the Author
W. Edwards Deming (1900–1993) was international consultant in management and quality. In 1987, he was awarded the National Medal of Technology and Innovation by President Ronald Reagan.