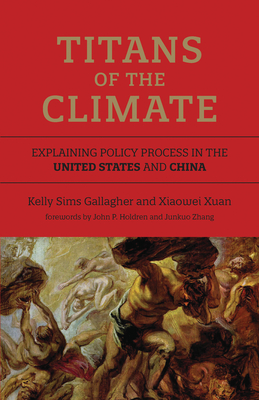 Titans of the Climate: Explaining Policy Process in the United States and China (American and Comparative Environmental Policy)
Publication Date:
February 5th, 2019
Special Order - Subject to Availability
Description
How the planet's two largest greenhouse gas emitters navigate climate policy.
The United States and China together account for a disproportionate 45 percent of global carbon dioxide emissions. In 2014, then-President Obama and Chinese President Xi Jinping announced complementary efforts to limit emissions, paving the way for the Paris Agreement. And yet, with President Trump's planned withdrawal from the Paris accords and Xi's consolidation of power—as well as mutual mistrust fueled by misunderstanding—the climate future is uncertain. In Titans of the Climate, Kelly Sims Gallagher and Xiaowei Xuan examine how the planet's two largest greenhouse gas emitters develop and implement climate policy. Through dispassionate analysis, the authors aim to help readers understand the challenges, constraints, and opportunities in each country.
Gallagher—a former U.S. climate policymaker—and Xuan—a member of a Chinese policy think tank—describe the specific drivers—political, economic, and social—of climate policies in both countries and map the differences between policy outcomes. They characterize the U.S. approach as "deliberative incrementalism"; the Chinese, meanwhile, engage in "strategic pragmatism." Comparing the policy processes of the two countries, Gallagher and Xuan make the case that if each country understands more about the other's goals and constraints, climate policy cooperation is more likely to succeed.
Praise for Titans of the Climate: Explaining Policy Process in the United States and China (American and Comparative Environmental Policy)
Titans attempts, and succeeds admirably, in distilling an incredibly complex subject with a vast array of actors, in a way that makes it all more understandable.—Energy Reporters—