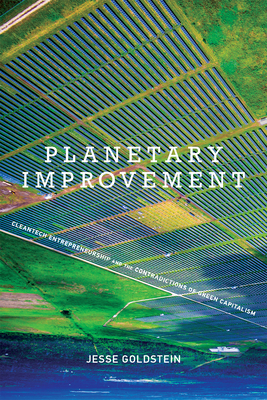 Planetary Improvement: Cleantech Entrepreneurship and the Contradictions of Green Capitalism
Publication Date:
March 16th, 2018
Special Order - Subject to Availability
Description
An examination of clean technology entrepreneurship finds that "green capitalism" is more capitalist than green.
Entrepreneurs and investors in the green economy have encouraged a vision of addressing climate change with new technologies. In Planetary Improvement, Jesse Goldstein examines the cleantech entrepreneurial community in order to understand the limitations of environmental transformation within a capitalist system. Reporting on a series of investment pitches by cleantech entrepreneurs in New York City, Goldstein describes investor-friendly visions of incremental improvements to the industrial status quo that are hardly transformational. He explores a new "green spirit of capitalism," a discourse of planetary improvement, that aims to "save the planet" by looking for "non-disruptive disruptions," technologies that deliver "solutions" without changing much of what causes the underlying problems in the first place.
Goldstein charts the rise of business environmentalism over the last half of the twentieth century and examines cleantech's unspoken assumptions of continuing cheap and abundant energy. Recounting the sometimes conflicting motivations of cleantech entrepreneurs and investors, he argues that the cleantech innovation ecosystem and its Schumpetarian dynamic of creative destruction are built around attempts to control creativity by demanding that transformational aspirations give way to short-term financial concerns. As a result, capitalist imperatives capture and stifle visions of sociotechnical possibility and transformation. Finally, he calls for a green spirit that goes beyond capitalism, in which sociotechnical experimentation is able to break free from the narrow bonds and relative privilege of cleantech entrepreneurs and the investors that control their fate.
About the Author
Jesse Goldstein is Assistant Professor in the Department of Sociology at Virginia Commonwealth University.
Praise for Planetary Improvement: Cleantech Entrepreneurship and the Contradictions of Green Capitalism
Though this book is intended for an academic audience, the author's clear and concise mobilization of theory, which is in turn grounded by an approachable ethnographic method, makes it accessible to a broad readership that includes activists, entrepreneurs, and even laypersons interested in the green economy.—Society & Space—