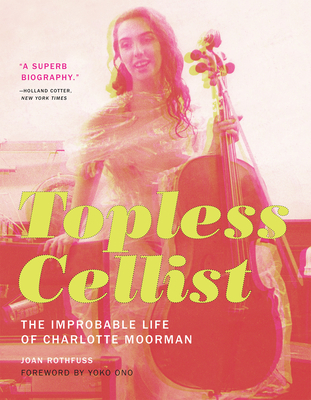 Topless Cellist: The Improbable Life of Charlotte Moorman
Publication Date:
March 3rd, 2017
Special Order - Subject to Availability
Description
The first book to explore the extraordinary career of musician and performance artist Charlotte Moorman, whose work combined classical rigor, avant-garde experiment, and madcap daring.
The Juilliard-trained cellist Charlotte Moorman sat nude behind a cello of carved ice, performed while dangling from helium-filled balloons, and deployed an array of instruments on The Mike Douglas Show that included her cello, a whistle, a cap gun, a gong, and a belch. She did a striptease while playing Bach in Nam June Paik's Sonata for Adults Only. In the 1960s, Moorman (1933–1991) became famous for her madcap (and often unclothed) performance antics; less famous but more significant is Moorman's transformative influence on contemporary performance practice—and her dedication to the idea that avant-garde art should reach the widest possible audience. In Topless Cellist, the first book to explore Moorman's life and work, Joan Rothfuss rediscovers, and recovers, the legacy of an extraordinary American artist.
Moorman's arrest in 1967 for performing topless made her a water-cooler conversation-starter, but before her tabloid fame she was a star of the avant-garde performance circuit, with a repertoire of pieces by, among others, Yoko Ono, Joseph Beuys, John Cage, and Paik, her main artistic partner. Moorman invented a new mode of performance that combined classical rigor, jazz improvisation, and avant-garde experiment—informed by intuition, daring, and love of spectacle. Moorman's annual festival of the avant-garde offered the public a lively sampler of contemporary art in performance, music, dance, poetry, film, and other media.
Rothfuss chronicles Moorman's life from her youth in Little Rock, Arkansas (where she was "Miss City Beautiful" of 1952) through her career in New York's avant-garde to her death from breast cancer in 1991. (Typically, she approached her treatment as if it were a performance.) Deeply researched and profusely illustrated, Topless Cellist offers a fascinating, sometimes heartbreaking, often hilarious story of an artist whose importance was more than the sum of her performances.
Praise for Topless Cellist: The Improbable Life of Charlotte Moorman
Topless Cellist is a brilliant portrait of a true original and the chaotic, confrontational, destructive, absurd era in which she lived. It's also a must read for anyone who was flirting with Artland back then, or wishes they'd been on the scene. A portrait of the times as much as the woman, Topless Cellist, gives a full measure of a life lived with 'extreme passion, extreme sex, extreme beauty.'—Minneapolis Star Tribune—
Ms. Rothfuss has written not just a fine biography of an absorbing character but a necessary one—a closely researched tale of a life in art where all was fleetingly possible. The illustrations, needless to add, are exhilarating.
—Norman Lebrecht, Wall Street Journal—
Essential for art historians, fun for New York City history buffs, inspirational for Lady Gaga fans.
—Library Journal—
Fascinating, thorough and insightful, Topless Cellist is the first biography of Moorman to appear, and Rothfuss is careful to position it carefully within the fluid art historical context of its time.
—The Wire—
Charlotte Moorman hit the headlines in 1967 when she was arrested for indecent exposure by New York police while playing her cello bare-breasted for a performance of Nam June Paik's 'Opera Sextronique.' But her career amounted to much more than a sensational single run-in with American morality. Born in Arkansas in 1933 and trained at Juilliard, she was a trailblazer in avant-garde performance art. To the composer Edgard Varèse, she was 'the Jeanne d'Arc of new music.' To her native city, Little Rock, she was 'Miss City Beautiful of 1952.' Complex and indomitable, she turned her death from cancer in 1991 into an anarchic event. Joan Rothfuss's level-eyed critical biography captures it all.
—Holland Cotter, New York Times—
...with a few exceptions Moorman does not appear in histories of 20th-century music. The vividly written and lavishly illustrated account that is Topless Cellist should go some way to rectify that neglect.
—John Robert Brown, Classical Music—
Rothfuss's is an essential volume: not just a record of a remarkable span and its rich artistic milieu, but testament also to the ways Moorman could be so easily written out of the history of the avant-garde.
—Brian Dillon, The Guardian—
This impressively researched, engaging and insightful book will hopefully prompt further consideration of Moorman's life, art and legacy.
—Studies in Theatre and Performance—
Detailed and thoroughly researched and featuring photographs of the impactful visuals that comprised Moorman's performances, Topless Cellist is unprecedented in its achievement as a biography of this unique artist.
—Woman's Art Journal—
... the story of how Moorman, a graduate of the Juilliard School (where her teacher was Leonard Rose) and rank-and-file member of Leopold Stokowski's American Symphony Orchestra, broke ranks with the classical niceties so resolutely is an inspiring one.
—The Strad—