Discounted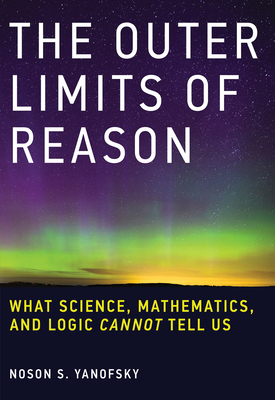 The Outer Limits of Reason: What Science, Mathematics, and Logic Cannot Tell Us
Previous price:

$22.95
Current price:

$19.95
Publication Date:
November 4th, 2016
The MIT Press Bookstore
1 on hand, as of Sep 21 10:34am
(STS)
On Our Shelves Now
Description
This exploration of the scientific limits of knowledge challenges our deep-seated beliefs about our universe, our rationality, and ourselves.
 
"A must-read for anyone studying information science." —Publishers Weekly, starred review
Many books explain what is known about the universe. This book investigates what cannot be known. Rather than exploring the amazing facts that science, mathematics, and reason have revealed to us, this work studies what science, mathematics, and reason tell us cannot be revealed. In The Outer Limits of Reason, Noson Yanofsky considers what cannot be predicted, described, or known, and what will never be understood. He discusses the limitations of computers, physics, logic, and our own intuitions about the world—including our ideas about space, time, and motion, and the complex relationship between the knower and the known.
 
Yanofsky describes simple tasks that would take computers trillions of centuries to complete and other problems that computers can never solve:
 
• perfectly formed English sentences that make no sense
• different levels of infinity
• the bizarre world of the quantum
• the relevance of relativity theory
• the causes of chaos theory
• math problems that cannot be solved by normal means
• statements that are true but cannot be proven
 
Moving from the concrete to the abstract, from problems of everyday language to straightforward philosophical questions to the formalities of physics and mathematics, Yanofsky demonstrates a myriad of unsolvable problems and paradoxes. Exploring the various limitations of our knowledge, he shows that many of these limitations have a similar pattern and that by investigating these patterns, we can better understand the structure and limitations of reason itself. Yanofsky even attempts to look beyond the borders of reason to see what, if anything, is out there.
Praise for The Outer Limits of Reason: What Science, Mathematics, and Logic Cannot Tell Us
"Yanofsky takes on this mindboggling subject with confidence and impressive clarity. He eases the reader into the subject matter, ending each chapter with further readings. His book is a fascinating resource for anyone who seeks a better understanding of the world through the strangeness of its own limitations and a must-read for anyone studying information science."
—Publishers Weekly, starred review
"Yanofsky provides an entertaining and informative whirlwind trip through limits on reason in language, formal logic, mathematics—and in science, the culmination of humankind's attempts to reason about the world."
—The New Scientist

"In my view, Outer Limits is an extraordinary, and extraordinarily interesting, book. It is a cornucopia of mind-bending ideas."
—Raymond S. Nickerson, PsycCRITIQUES

"The scope of the material covered is so wide, and the writing so clear and intuitive, that all readers will learn something new and stimulating."
—Thomas Colin, Leonardo Reviews