Discounted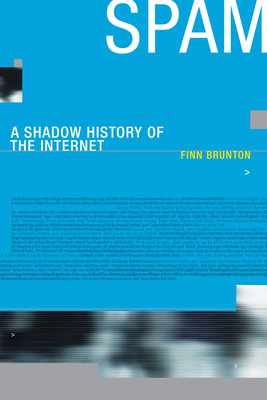 Spam: A Shadow History of the Internet (Infrastructures)
Previous price:

$20.00
Current price:

$17.95
Publication Date:
January 30th, 2015
The MIT Press Bookstore
1 on hand, as of Nov 30 10:32am
(DIGST)
On Our Shelves Now
Description
What spam is, how it works, and how it has shaped online communities and the Internet itself.
The vast majority of all email sent every day is spam, a variety of idiosyncratically spelled requests to provide account information, invitations to spend money on dubious products, and pleas to send cash overseas. Most of it is caught by filters before ever reaching an in-box. Where does it come from? As Finn Brunton explains in Spam, it is produced and shaped by many different populations around the world: programmers, con artists, bots and their botmasters, pharmaceutical merchants, marketers, identity thieves, crooked bankers and their victims, cops, lawyers, network security professionals, vigilantes, and hackers. Every time we go online, we participate in the system of spam, with choices, refusals, and purchases the consequences of which we may not understand.
This is a book about what spam is, how it works, and what it means. Brunton provides a cultural history that stretches from pranks on early computer networks to the construction of a global criminal infrastructure. The history of spam, Brunton shows us, is a shadow history of the Internet itself, with spam emerging as the mirror image of the online communities it targets. Brunton traces spam through three epochs: the 1970s to 1995, and the early, noncommercial computer networks that became the Internet; 1995 to 2003, with the dot-com boom, the rise of spam's entrepreneurs, and the first efforts at regulating spam; and 2003 to the present, with the war of algorithms—spam versus anti-spam. Spam shows us how technologies, from email to search engines, are transformed by unintended consequences and adaptations, and how online communities develop and invent governance for themselves.
Praise for Spam: A Shadow History of the Internet (Infrastructures)
Finn Brunton's excellent cultural history of spam offers a readable, witty account of the battle between the spammers and the spammed—a battle of often surprising complexity and astonishing technological escalation, in an arms race that is still being fought.—John Gilbey, Times Higher Education—
Spam will fascinate readers who aren't experts in the subject matter by shedding new light on the culture and function of their Internet experience. But it has plenty to offer computer scientists and online-community researchers as well… This masterful telling of the history illustrates just how much has changed and how we fit into the larger story.
—Jennifer Golbeck, Science Magazine—
This book is a gem. The goings-on of the twisted personages who populate cyberpunk lit have nothing on the ingenious scheming of the spammers and the scientists dedicated to shutting them down. Read here and in days to come about this fascinatingly bizarre subterranean cyberworld.
—Scientific American—
A colorful assortment of international tradespeople, drug-pushers, swindlers, and fraudsters, spammers have become a familiar feature of our digital landscape. Finn Brunton's investigation of the question of spam, Spam: A Shadow History of the Internet—the problems of defining it, understanding it, and tackling it—takes us to the front of an ongoing and highly sophisticated technological war, a keenly contested territorial struggle for control of the information superhighway.
—Houman Barekat, The Millions—
The book, a beautifully written and entertaining one, adopts an historical approach to the discussion of spam and the 'technological drama' that it manifests...The real value of the book however, does not lie in this historical reconstruction, but in its ability to use spam, as a tool through to reveal by negative reflection the positive values and beliefs that lay at the foundation of internet communities, and the importance of attention and trust in their working.
—Information, Communication & Society—