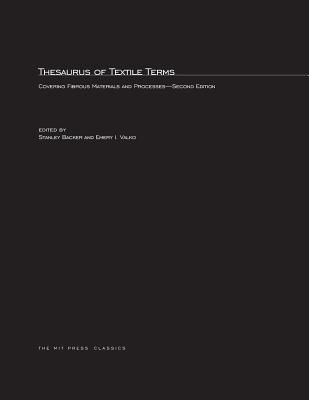 Thesaurus of Textile Terms, second edition: Covering Fibrous Materials and Processes (Mit Press)
Publication Date:
March 17th, 2003
Usually Ships in 1 to 5 Days
Description
This thesaurus provides an indispensable tool in the area of textile information storage and retrieval. At present there is no comparable reference work in the field. It contains terms relating to all segments of the textile industrial complex from fiber producer to machinery maker to consumer goods testing laboratories, and is intended to provide a controlled vocabulary for all textile terms from the chemical stage to the marketing end. It will provide a quick and valuable reference guide to users of textile research and engineering literature and provide a source of specialized and accurate terminology for authors, editors, indexers, information specialists, and librarians, as well as inventors and patent lawyers.The focal point of this compilation of the language and literature of textiles was the textile mill and/or finishing plant, i.e., the core of the industry. The details of terminology were determined from the viewpoint of this manufacturing nucleus. The thesaurus contains 8000 key words and 72,000 relationships. Its coverage will serve the needs from fiber producer, textile manufacturer and finisher, distributor of clothing, producer of textile auxiliaries and dyes, the maker of textile machinery, and materials-testing governmental laboratories, to retailing organizations and consumer groups. The work is in computer printout form and was developed and prepared as part of the textile information program conducted in the Fibers and Polymers Division, M.I.T., under sponsorship of the U. S. Department of Commerce. It has already been translated into French and the Nordic languages and will fill the growing need for a guide to the international literature of textile materials and processes.