Discounted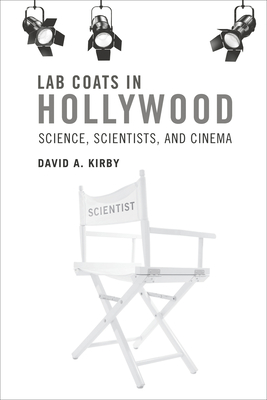 Lab Coats in Hollywood: Science, Scientists, and Cinema
Previous price:

$25.00
Current price:

$18.95
Publication Date:
February 8th, 2013
The MIT Press Bookstore
1 on hand, as of Sep 26 1:27pm
(STS)
On Our Shelves Now
Description
How science consultants make movie science plausible, in films ranging from 2001: A Space Odyssey to Finding Nemo.
Stanley Kubrick's 2001: A Space Odyssey, released in 1968, is perhaps the most scientifically accurate film ever produced. The film presented such a plausible, realistic vision of space flight that many moon hoax proponents believe that Kubrick staged the 1969 moon landing using the same studios and techniques. Kubrick's scientific verisimilitude in 2001 came courtesy of his science consultants—including two former NASA scientists—and the more than sixty-five companies, research organizations, and government agencies that offered technical advice. Although most filmmakers don't consult experts as extensively as Kubrick did, films ranging from A Beautiful Mind and Contact to Finding Nemo and The Hulk have achieved some degree of scientific credibility because of science consultants. In Lab Coats in Hollywood, David Kirby examines the interaction of science and cinema: how science consultants make movie science plausible, how filmmakers negotiate scientific accuracy within production constraints, and how movies affect popular perceptions of science.
Drawing on interviews and archival material, Kirby examines such science consulting tasks as fact checking and shaping visual iconography. Kirby finds that cinema can influence science as well: Depictions of science in popular films can promote research agendas, stimulate technological development, and even stir citizens into political action.
Praise for Lab Coats in Hollywood: Science, Scientists, and Cinema
For movie-lovers everywhere, it provides a fascinating behind-the-scenes look at how art and science meet in producing motion pictures we find delightful.—Science—
For that strange corner where science nut meets movie buff, this is a very enlightening book.
—Booklist—
From 'prophetic' early films like 1929's Woman in the Moon science-focused movies like 2001: A Space Odyssey to admitted fiascos like The Core, Kirby's command of the subject makes for entertaining reading and, likely, more informed viewing.
—Publishers Weekly—
[O]ne of the most in-depth books on the intersection of science and Hollywood to date.
—ScriptPhD.com—
Kirby's book is honest and true, well-researched, unique, and easy to read.
—Jeff Schmerker, The Journal of Mind and Behavior—
This is a must-read for anyone interested in popular representations of science. Kirby describes the ways that visual media interpret, naturalize, and engage with scientific theories (be they well-accepted, controversial, or fantastical), and how some scientists in turn manipulate cinematic depictions for their own ends. Plus, have I mentioned how much fun it is?
—Carla Nappi, New Books in Science, Technology, and Society—