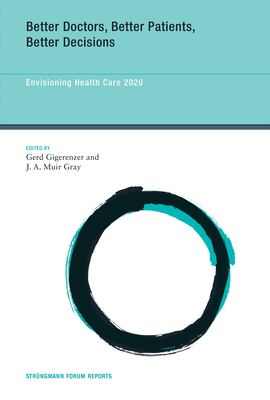 Better Doctors, Better Patients, Better Decisions: Envisioning Health Care 2020 (Strüngmann Forum Reports #6)
Publication Date:
January 11th, 2013
Special Order - Subject to Availability
Description
How eliminating "risk illiteracy" among doctors and patients will lead to better health care decision making.
Contrary to popular opinion, one of the main problems in providing uniformly excellent health care is not lack of money but lack of knowledge—on the part of both doctors and patients. The studies in this book show that many doctors and most patients do not understand the available medical evidence. Both patients and doctors are "risk illiterate"—frequently unable to tell the difference between actual risk and relative risk. Further, unwarranted disparity in treatment decisions is the rule rather than the exception in the United States and Europe. All of this contributes to much wasted spending in health care.
The contributors to Better Doctors, Better Patients, Better Decisions investigate the roots of the problem, from the emphasis in medical research on technology and blockbuster drugs to the lack of education for both doctors and patients. They call for a new, more enlightened health care, with better medical education, journals that report study outcomes completely and transparently, and patients in control of their personal medical records, not afraid of statistics but able to use them to make informed decisions about their treatments.