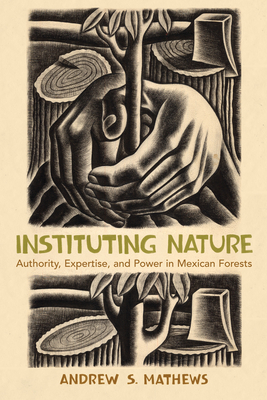 Instituting Nature: Authority, Expertise, and Power in Mexican Forests (Politics, Science, and the Environment)
Publication Date:
November 4th, 2011
Special Order - Subject to Availability
Description
A study of how encounters between forestry bureaucrats and indigenous forest managers in Mexico produced official knowledge about forests and the state.
Greater knowledge and transparency are often promoted as the keys to solving a wide array of governance problems. In Instituting Nature, Andrew Mathews describes Mexico's efforts over the past hundred years to manage its forests through forestry science and biodiversity conservation. He shows that transparent knowledge was produced not by official declarations or scientists' expertise but by encounters between the relatively weak forestry bureaucracy and the indigenous people who manage and own the pine forests of Mexico. Mathews charts the performances, collusions, complicities, and evasions that characterize the forestry bureaucracy. He shows that the authority of forestry officials is undermined by the tension between local realities and national policy; officials must juggle sweeping knowledge claims and mundane concealments, ambitious regulations and routine rule breaking. Moving from government offices in Mexico City to forests in the state of Oaxaca, Mathews describes how the science of forestry and bureaucratic practices came to Oaxaca in the 1930s and how local environmental and political contexts set the stage for local resistance. He tells how the indigenous Zapotec people learned the theory and practice of industrial forestry as employees and then put these skills to use when they become the owners and managers of the area's pine forests—eventually incorporating forestry into their successful claims for autonomy from the state. Despite the apparently small scale and local contexts of this balancing act between the power of forestry regulations and the resistance of indigenous communities, Mathews shows that it has large implications—for how we understand the modern state, scientific knowledge, and power and for the global carbon markets for which Mexican forests might become valuable.
Praise for Instituting Nature: Authority, Expertise, and Power in Mexican Forests (Politics, Science, and the Environment)
…Mathews offers a provocative, new approach to environmental research, one that is rooted in anthropology and social forestry but would be equally at home in a geography, sociology, conservation biology, STS, or policy class. The text would be highly useful for graduate students and senior-level undergraduates.—Nora Haenn, Human Ecology—
In this fascinating book, Andrew Mathews studies, with much great detail and in great depth, the ways in which Mexico dealt with the protection and management of forests in the twentieth century, particularly between 1926 and 2001. Mathews's study, which is wonderfully researched and very well written, traces the roles of the modern state, bureaucracy, science, conservation, and indigenous communities, among other factors, in the dynamic between Mexican forests and the people that surround them.
—Camilo Quintero, ISIS—
Andrew Mathews has produced an engaging and theoretically rich text that spans disciplines and draws important conclusions about our understandings of knowledge, nature, and the modern state.
—Alexander J. Myers, Rural Sociology—