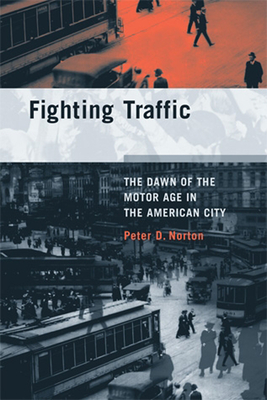 Fighting Traffic: The Dawn of the Motor Age in the American City (Inside Technology)
Publication Date:
January 21st, 2011
The MIT Press Bookstore
1 on hand, as of Nov 30 10:32am
(STS)
On Our Shelves Now
Description
The fight for the future of the city street between pedestrians, street railways, and promoters of the automobile between 1915 and 1930.
Before the advent of the automobile, users of city streets were diverse and included children at play and pedestrians at large. By 1930, most streets were primarily a motor thoroughfares where children did not belong and where pedestrians were condemned as "jaywalkers." In Fighting Traffic, Peter Norton argues that to accommodate automobiles, the American city required not only a physical change but also a social one: before the city could be reconstructed for the sake of motorists, its streets had to be socially reconstructed as places where motorists belonged. It was not an evolution, he writes, but a bloody and sometimes violent revolution. Norton describes how street users struggled to define and redefine what streets were for. He examines developments in the crucial transitional years from the 1910s to the 1930s, uncovering a broad anti-automobile campaign that reviled motorists as "road hogs" or "speed demons" and cars as "juggernauts" or "death cars." He considers the perspectives of all users—pedestrians, police (who had to become "traffic cops"), street railways, downtown businesses, traffic engineers (who often saw cars as the problem, not the solution), and automobile promoters. He finds that pedestrians and parents campaigned in moral terms, fighting for "justice." Cities and downtown businesses tried to regulate traffic in the name of "efficiency." Automotive interest groups, meanwhile, legitimized their claim to the streets by invoking "freedom"—a rhetorical stance of particular power in the United States. Fighting Traffic offers a new look at both the origins of the automotive city in America and how social groups shape technological change.