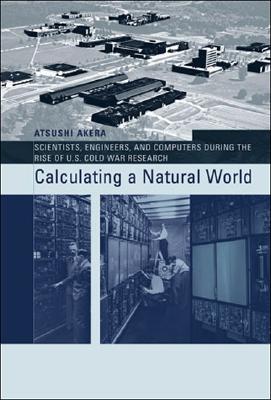 Calculating a Natural World: Scientists, Engineers, and Computers During the Rise of U.S. Cold War Research (Inside Technology)
Publication Date:
September 1st, 2008
The MIT Press Bookstore
1 on hand, as of Dec 8 10:45am
(STS)
On Our Shelves Now
Description
During the Cold War, the field of computing advanced rapidly within a complex institutional context. In Calculating a Natural World, Atsushi Akera describes the complicated interplay of academic, commercial, and government and military interests that produced a burst of scientific discovery and technological innovation in 1940s and 1950s America. This was the era of big machines--the computers that made the reputations of IBM and of many academic laboratories--and Akera uses the computer as a historical window on the emerging infrastructure of American scientific and engineering research. The military-industrial complex is often spoken of as a coherent and unified power, but Akera argues that it was the tensions as much as the convergences among military, business, and academic forces that fueled scientific and technological advances.
Akera's study is unique in its integration of a history of postwar computing--usually told in terms of either business or hardware--and a mapping of an ecology of knowledge represented by the emerging institutional infrastructure for computing. For example, Akera sees John Mauchly's early work on computers as a product of his peripatetic career--his journey through different institutional ecologies--and John von Neumann's work as emerging from the convergence of physics and applied mathematics at the Institute for Advanced Study. Akera also looks at the ways in which the institutional contexts of the National Bureau of Standards and MIT's Project Whirlwind pulled research in diverging directions, and he examines IBM's dominance from the perspectives of both business and users. Finally, Akera compares the academic computing centers at MIT and the University of Michigan, tracing the tensions on those campuses over whether computers were a service facility, a commercial technology, or a subject of research.