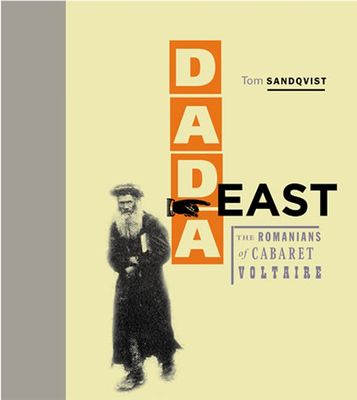 Dada East: The Romanians of Cabaret Voltaire
Publication Date:
February 24th, 2006
Special Order - Subject to Availability
Description
The secret history of Dada's Romanian roots; how Tristan Tzara, Marcel, Jules, and Georges Janco, and Arthur Segal influenced the most famous and outrageous modernist movement.
Dada—perhaps the most famous and outrageous of modernism's artistic movements—is said to have begun at the Cabaret Voltaire, a literary evening staged at the restaurant Meierei in Zurich on February 5, 1916. The evening featured stamping, roaring, banging on the lids of pots and pans, and the recitation of incomprehensible "poemes simultanes." Thus a global revolution in art and culture was born in a Swiss restaurant. Or was it?
In Dada East, Tom Sandqvist shows that Dada did not spring full-grown from a Zurich literary salon but grew out of an already vibrant artistic tradition in Eastern Europe—particularly Romania—that was transposed to Switzerland when a group of Romanian modernists settled in Zurich. Bucharest and other cities in Romania had been the scene of Dada-like poetry, prose, and spectacle in the years before World War I. One of the leading lights was Tristan Tzara, who began his career in avant-garde literature at fifteen when he cofounded the magazine Simbolul. Tzara—who himself coined the term "Dada," inspired by an obscure connection of his birthday to an Orthodox saint—was at the Cabaret Voltaire that night, along with fellow Romanians Marcel, Jules, and Georges Janco and Arthur Segal. It's not a coincidence, Sandqvist argues, that so many of the first dadaist group were Romanians. Sandqvist traces the artistic and personal transformations that took place in the "little Paris of the Balkans" before they took center stage elsewhere, finding sources as varied as symbolism, futurism, and folklore. He points to a connection between Romanian modernists and the Eastern European Yiddish tradition; Tzara, the Janco brothers, and Segal all grew up within Jewish culture and traditions.
For years, the communist authorities in Romania disowned and disavowed Romania's avant-garde movements. Now, as archives and libraries are opening to Western scholars, Tom Sandqvist tells the secret history of Dada's Romanian roots.
Praise for Dada East: The Romanians of Cabaret Voltaire
In almost encyclopedic you-are-there detail, Sandqvist, a professor of art history in Stockholm, convincingly shows that Dada did not emerge fully formed in Zurich but grew out of an already active Romanian avant-garde.... Tracing the careers of these remarkable group of men and women against a richly woven background of their competing yet complementary Yiddish, Eastern Orthodox, modernist, and folkloric traditions was a massive task of intellectual archeology, which Sandqvist has accomplished with ease. In particular, his explorations of archives long hidden by Romania's Communist government provide an unprecedented depth of contextual information about of the art history's most influential movements.—Publishers Weekly—