New Release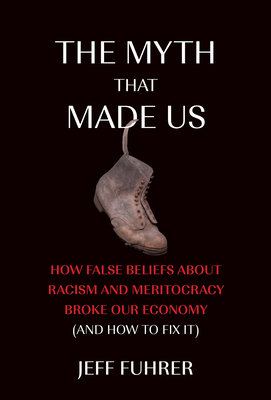 The Myth That Made Us: How False Beliefs about Racism and Meritocracy Broke Our Economy (and How to Fix It)
Publication Date:
September 12th, 2023
Usually Ships in 1 to 5 Days
Description
How our false narratives about post-racism and meritocracy have been used to condone egregious economic outcomes—and what we can do to fix the system.
The Myth That Made Us exposes how false narratives—of a supposedly post-racist nation, of the self-made man, of the primacy of profit- and shareholder value-maximizing for businesses, and of minimal government interference—have been used to excuse gross inequities and to shape and sustain the US economic system that delivers them. Jeff Fuhrer argues that systemic racism continues to produce vastly disparate outcomes and that our brand of capitalism favors doing little to reduce disparities. Evidence from other developed capitalist economies shows it doesn't have to be that way. We broke this (mean-spirited) economy. We can fix it.
Rather than merely laying blame at the feet of both conservatives and liberals for aiding and abetting an unjust system, Fuhrer charts a way forward. He supplements evidence from data with insights from community voices and outlines a system that provides more equal opportunity to accumulate both human and financial capital. His key areas of focus include universal access to high-quality early childhood education; more effective use of our community college system as a pathway to stable employment; restructuring key aspects of the low-wage workplace; providing affordable housing and transit links; supporting people of color by serving as mentors, coaches, and allies; and implementing Baby Bonds and Reparations programs to address the accumulated loss of wealth among Black people due to the legacy of enslavement and institutional discrimination. Fuhrer emphasizes embracing humility, research-based approaches, and community involvement as ways to improve economic opportunity.
Praise for The Myth That Made Us: How False Beliefs about Racism and Meritocracy Broke Our Economy (and How to Fix It)
Included in Publishers Weekly's Fall 2023 Adult Announcements Business and Economics Top 10 List
"A thoughtful call for equality of economic opportunity, both provocative and, in the end, eminently practical."
—Kirkus Reviews
"Economist Fuhrer carefully deconstructs this myth and discusses discriminatory policies designed to disadvantage people of color, such as the exclusion of domestic and agricultural workers, who were disproportionately likely to be people of color, from New Deal minimum wage and overtime pay requirements…The troubling interviews and statistics underscore the difficulty of "making it" in America, and the proposed solutions are pragmatic and well considered. Readers will be outraged by this scathing indictment of America's failure to live up to its meritocratic ideals."
—Publishers Weekly
"I welcome Fuhrer adding his voice to those challenging the massive rise in inequality that we have seen in the last half century. If we are ever to make serious progress we need to have a lot people follow his path."
—Dean Baker