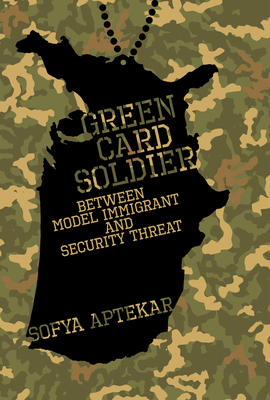 Green Card Soldier: Between Model Immigrant and Security Threat (Labor and Technology)
Publication Date:
May 2nd, 2023
The MIT Press Bookstore
2 on hand, as of Nov 30 10:32am
(NEWM)
On Our Shelves Now
Description
An in-depth and troubling look at a little-known group of immigrants—non-citizen soldiers who enlist in the US military.
While the popular image of the US military is one of citizen soldiers protecting their country, the reality is that nearly 5 percent of all first-time military recruits are noncitizens. Their reasons for enlisting are myriad, but many are motivated by the hope of gaining citizenship in return for their service. In Green Card Soldier, Sofya Aptekar talks to more than seventy noncitizen soldiers from twenty-three countries, including some who were displaced by conflict after the US military entered their homeland. She identifies a disturbing pattern: the US military's intervention in foreign countries drives migration, which in turn supplies the military with a cheap and desperate labor pool—thereby perpetuating the cycle.
As Aptekar discovers, serving in the US military is no guarantee against deportation, and yet the promise of citizenship and the threat of deportation are the carrot and stick used to discipline noncitizen soldiers. Viewed at various times as security threats and members of a model minority, immigrant soldiers sometimes face intense discrimination from their native-born colleagues and superiors. Their stories—stitched through with colonial legacies, white supremacy, exploitation, and patriarchy—show how the tensions between deservingness and suspicion shape their enlistment, service, and identities. Giving voice to this little-heard group of immigrants, Green Card Soldier shines a cold light on the complex workings of US empire, globalized militarism, and citizenship.
About the Author
Sofya Aptekar is Associate Professor of Urban Studies at the City University of New York School of Labor and Urban Studies. She is the author of The Road to Citizenship: What Naturalization Means for Immigrants and the United States.
Other Books in Series
Job/Security: A Composite Portrait of the Expanding American Security Industry (Labor and Technology)
Goodwin, Danny
Hardcover