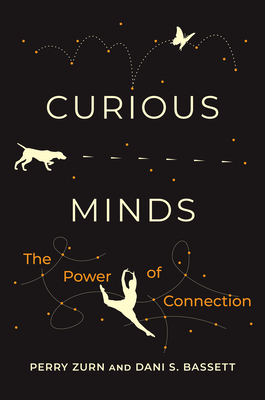 Curious Minds: The Power of Connection
Publication Date:
September 6th, 2022
Usually Ships in 1 to 5 Days
Description
An exhilarating, genre-bending exploration of curiosity's powerful capacity to connect ideas and people.
Curious about something? Google it. Look at it. Ask a question. But is curiosity simply information seeking? According to this exhilarating, genre-bending book, what's left out of the conventional understanding of curiosity are the wandering tracks, the weaving concepts, the knitting of ideas, and the thatching of knowledge systems—the networks, the relations between ideas and between people. Curiosity, say Perry Zurn and Dani Bassett, is a practice of connection: it connects ideas into networks of knowledge, and it connects knowers themselves, both to the knowledge they seek and to each other. 
 
Zurn and Bassett—identical twins who write that their book "represents the thought of one mind and two bodies"—harness their respective expertise in the humanities and the sciences to get irrepressibly curious about curiosity. Traipsing across literatures of antiquity and medieval science, Victorian poetry and nature essays, as well as work by writers from a variety of marginalized communities, they trace a multitudinous curiosity. They identify three styles of curiosity—the busybody, who collects stories, creating loose knowledge networks; the hunter, who hunts down secrets or discoveries, creating tight networks; and the dancer, who takes leaps of creative imagination, creating loopy ones. Investigating what happens in a curious brain, they offer an accessible account of the network neuroscience of curiosity. And they sketch out a new kind of curiosity-centric and inclusive education that embraces everyone's curiosity. The book performs the very curiosity that it describes, inviting readers to participate—to be curious with the book and not simply about it.
Praise for Curious Minds: The Power of Connection
"What exactly is curiosity? Where does it come from and how does it work? In a manuscript peppered with questions, [Perry Zurn and Dani Bassett] explore everything from Plutarch to Google algorithms… Neither Zurn nor Bassett are technically historians, but you wouldn't know it from reading their book... In fact, the book is outlandishly multidisciplinary… Curious Minds also keenly explores whose curiosity is encouraged and whose is policed – the twins examine marginalization, power and privilege throughout the book." 
—The Observer (UK)
"Refreshingly different. It radically reframes the elusive concept of curiosity in a way that elevates it to a new epistemological level…Intellectually and aesthetically deeply satisfying, [Zurn and Bassett] travel between the realms of art, neuroscience, history, philosophy, literature, psychology, sociology—you name it—shining an intriguing light on a subject that gets usually seen only through the narrow lens of a single discipline…Beautiful, almost poetic writing… An enlightening and inspiring read."
—Developing Leaders Quarterly