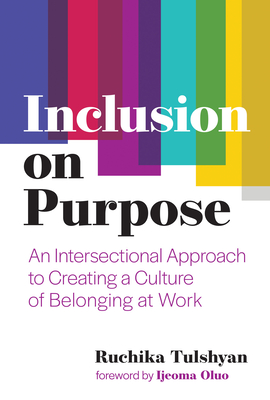 Inclusion on Purpose: An Intersectional Approach to Creating a Culture of Belonging at Work
Publication Date:
March 1st, 2022
The MIT Press Bookstore
12 on hand, as of Nov 30 10:32am
(BUSIN)
On Our Shelves Now
Description
How organizations can foster diversity, equity, and inclusion: taking action to address and prevent workplace bias while centering women of color.
Few would disagree that inclusion is both the right thing to do and good for business. Then why are we so terrible at it? If we believe in the morality and the profitability of including people of diverse and underestimated backgrounds in the workplace, why don't we do it? Because, explains Ruchika Tulshyan in this eye-opening book, we don't realize that inclusion takes awareness, intention, and regular practice. Inclusion doesn't just happen; we have to work at it. Tulshyan presents inclusion best practices, showing how leaders and organizations can meaningfully promote inclusion and diversity. 
 
Tulshyan centers the workplace experience of women of color, who are subject to both gender and racial bias. It is at the intersection of gender and race, she shows, that we discover the kind of inclusion policies that benefit all. Tulshyan debunks the idea of the "level playing field" and explains how leaders and organizations can use their privilege for good by identifying and exposing bias, knowing that they typically have less to lose in speaking up than a woman of color does. She explains why "leaning in" doesn't work—and dismantling structural bias does; warns against hiring for "culture fit," arguing for "culture add" instead; and emphasizes the importance of psychological safety in the workplace—you need to know that your organization has your back. With this important book, Tulshyan shows us how we can make progress toward inclusion and diversity—and we must start now.
Praise for Inclusion on Purpose: An Intersectional Approach to Creating a Culture of Belonging at Work
One of LinkedIn's Top Voices in Gender Equity: The 15 creators to follow list
Included in Porchlight's Top Leadership Books of 2022 list
"By centering women of color, workplaces can begin to tangibly accomplish meaningful inclusion for all. Luckily for us, Tulshyan has written this guidebook to help us get started. "
—Ms.
"Inclusion, diversity, and representation in the workplace have been hotly discussed topics over the past two years, which, to start, is long overdue. That said, it isn't enough just to talk about these issues—they require active and persistent work to make any kind of lasting, positive change. Ruchika Tulshyan, CEO of consulting firm Candour, debunks a number of recent workplace self-help theories (like "leaning in" or establishing a "level playing field" or hiring someone because they fit within the preexisting office culture), while offering a guide to dismantling workplace bias, with a focus on the experience of women of color, who are subject to both gender and racial biases."
—Fortune
"By reading Tulshyan's book, leaders will recognize the importance of seeing others for who they are and will begin to appreciate what they experience. Her hope is that they will be persuaded to stop implementing DEI policies that imagine each stakeholder as a potential "I." Rather, they will begin to see each member of the organization according to their own unique identity. Organizations will be better for it."
—Forbes
"In Inclusion on Purpose, the DEI consultant Ruchika Tulshyan notes that real progress requires not just empathy but proactive, ongoing effort. She offers six strategies for turning empathy into action—be uncomfortable, reflect on what you don't know, invite feedback, limit defensiveness, grow from your mistakes, and expect change to take time—and encourages readers to examine how policies or assumptions that seem "normal" can cause unintended harm. For example, she describes a workplace where social events always included alcohol, thus excluding employees whose religion, culture, or health kept them from drinking. Tulshyan recommends acknowledging such mistakes, identifying the biases that may have driven them, and working to do better."
—Harvard Business Review 
"Tulshyan explores how leaders and organizations can meaningfully foster diversity, equity and inclusion by taking action to address and prevent workplace bias, while centering on the workplace experience of women of color, who are subject to both gender and racial bias."
—Publishers Weekly
"With this important book, Tulshyan shows us how we can make progress toward inclusion and diversity—and we must start now."
—Porchlight Book Company
"Inclusion on Purpose is a good book for transforming organizations and essential reading for anyone trying to make friendlier, more-inclusive workplaces."
—CHOICE

"What I like so much about Inclusion on Purpose is that it addresses personal and organizational steps for inclusion. It is action-focused, equipping readers with impactful approaches to advocate for inclusion at the individual level, while also focusing on systemic interventions. The intersectional focus means that it is more comprehensive and nuanced than other books dealing with this topic. Many chapters have reflective questions at the end, allowing the reader to really examine themselves and the spaces they're in. It's a perfect book to read in community with others to foster intentionality and accountability for inclusion in all aspects of work and life."
—Smith School of Business at Queens University