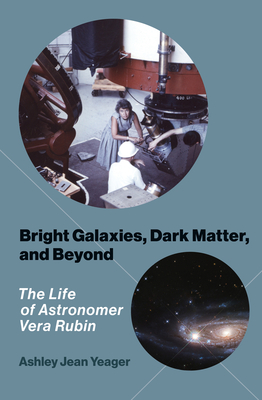 Bright Galaxies, Dark Matter, and Beyond: The Life of Astronomer Vera Rubin
Publication Date:
August 17th, 2021
The MIT Press Bookstore
4 on hand, as of Nov 30 10:32am
(GS:CO)
On Our Shelves Now
Description
How Vera Rubin convinced the scientific community that dark matter might exist, persevering despite early dismissals of her work.
 
We now know that the universe is mostly dark, made up of particles and forces that are undetectable even by our most powerful telescopes. The discovery of the possible existence of dark matter and dark energy signaled a Copernican-like revolution in astronomy: not only are we not the center of the universe, neither is the stuff of which we're made. Astronomer Vera Rubin (1928–2016) played a pivotal role in this discovery. By showing that some astronomical objects seem to defy gravity's grip, Rubin helped convince the scientific community of the possibility of dark matter. In Bright Galaxies, Dark Matter, and Beyond, Ashley Jean Yeager tells the story of Rubin's life and work, recounting her persistence despite early dismissals of her work and widespread sexism in science.
 
Yeager describes Rubin's childhood fascination with stars, her education at Vassar and Cornell, and her marriage to a fellow scientist. At first, Rubin wasn't taken seriously; she was a rarity, a woman in science, and her findings seemed almost incredible. Some observatories in midcentury America restricted women from using their large telescopes; Rubin was unable to collect her own data until a decade after she had earned her PhD. Still, she continued her groundbreaking work, driving a scientific revolution. She received the National Medal of Science in 1993, but never the Nobel Prize—perhaps overlooked because of her gender. She's since been memorialized with a ridge on Mars, an asteroid, a galaxy, and most recently, the Vera C. Rubin Observatory—the first national observatory named after a woman.
 
Praise for Bright Galaxies, Dark Matter, and Beyond: The Life of Astronomer Vera Rubin
2022 PROSE Award Finalist, Biography & Autobiography
"A compelling life of a top-notch scientist...Yeager has done her homework, delivering a lucid explanation of the science without ignoring Rubin's struggles as a pathbreaking woman in her profession."—Kirkus Reviews
"[A] moving debut biography... for those not familiar with Rubin's achievements, this is a good place to start."
—Publishers Weekly
"Many astronomers and cosmologists had worked on this non-intuitive idea of dark matter, but Yeager shows the full context and importance of Rubin's work…Rubin also liked to unearth, and popularize, stories of women in the history of science. Her own story will doubtless inspire generations to come thanks, in part, to this excellent biography."
—New Scientist
"Bright Galaxies, Dark Matter, and Beyond follows Rubin's journey from stargazing child to preeminent astronomer and fierce advocate for women in science." – Science News
"This is Yeager's first book, and it benefits from her background in journalism and science writing, leaving no stone unturned as it rigorously illuminates Rubin and her discoveries...Yeager follows the discovery in a way I have not come across before, keeping me hooked on each page...a mesmerizing read" – Physics World