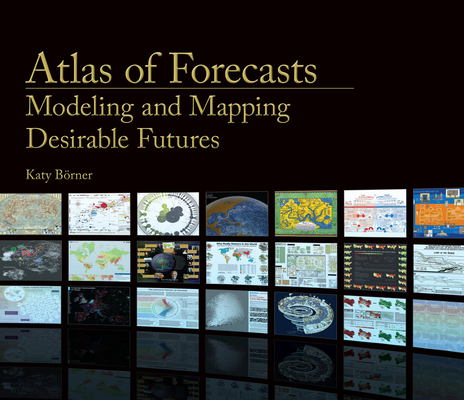 Atlas of Forecasts: Modeling and Mapping Desirable Futures
Publication Date:
August 31st, 2021
Special Order - Subject to Availability
Description
Forecasting the future with advanced data models and visualizations.
To envision and create the futures we want, society needs an appropriate understanding of the likely impact of alternative actions. Data models and visualizations offer a way to understand and intelligently manage complex, interlinked systems in science and technology, education, and policymaking. Atlas of Forecasts, from the creator of Atlas of Science and Atlas of Knowledge, shows how we can use data to predict, communicate, and ultimately attain desirable futures.
Using advanced data visualizations to introduce different types of computational models, Atlas of Forecasts demonstrates how models can inform effective decision-making in education, science, technology, and policymaking. The models and maps presented aim to help anyone understand key processes and outcomes of complex systems dynamics, including which human skills are needed in an artificial intelligence-empowered economy; what progress in science and technology is likely to be made; and how policymakers can future-proof regions or nations. This Atlas offers a driver's seat-perspective for a test-drive of the future.
About the Author
Katy Börner is Victor H. Yngve Distinguished Professor of Engineering and Information Science in the Departments of Intelligent Systems Engineering and Information Science at the Luddy School of Informatics, Computing, and Engineering at Indiana University Bloomington, where she is also founding director of the Cyberinfrastructure for Network Science Center. She is the author of Atlas of Science: Visualizing What We Know and Atlas of Knowledge: Anyone Can Map (both published by the MIT Press). Since 2005, she has served as a curator of the international Places & Spaces: Mapping Science exhibit.
Praise for Atlas of Forecasts: Modeling and Mapping Desirable Futures
2022 PROSE Award Winner, Engineering & Technology


"[Börner's] sumptuous, detailed book tackles issues of error and bias head-on..."
—New Scientist
delivers peer-reviewed and edited articles, tutorials, and case studies that provide unmatched professional development for forecasters.

"Atlas of Forecasts is a sumptuous work that will give modelers and forecasters the perspectives and intellectual repower to deal with the challenges of uncertain futures."
—Foresight
"Börner, a professor of information and library sciences and a noted expert on information visualization and bibliometrics, admirably accomplishes the enormous task of distilling the breadth and depth of computational modeling. The text provides an overview of modeling methods followed by examples of modeling as applied in science, technology, and policy studies at micro and macro scales. A richly illustrated set of "science maps" from various disciplines forms the bulk of this atlas. As a highly informational resource on applications of modeling methods, the volume is best suited for academic collections with broad focus on computing, library and information science, and the computational social sciences."
–CHOICE