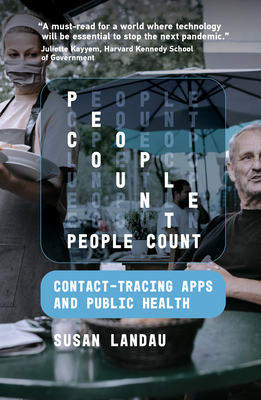 People Count: Contact-Tracing Apps and Public Health
Publication Date:
April 6th, 2021
The MIT Press Bookstore
1 on hand, as of Dec 5 4:07pm
(BIOMD)
On Our Shelves Now
Description
An introduction to the technology of contact tracing and its usefulness for public health, considering questions of efficacy, equity, and privacy.
How do you stop a pandemic before a vaccine arrives? Contact tracing is key, the first step in a process that has proven effective: trace, test, and isolate. Smartphones can collect some of the information required by contact tracers--not just where you've been but also who's been near you. Can we repurpose the tracking technology that we carry with us--devices with GPS, Wi-Fi, Bluetooth, and social media connectivity--to serve public health in a pandemic? In People Count, cybersecurity expert Susan Landau looks at some of the apps developed for contact tracing during the COVID-19 pandemic, finding that issues of effectiveness and equity intersect.
Landau explains the effectiveness (or ineffectiveness) of a range of technological interventions, including dongles in Singapore that collect proximity information; India's biometric national identity system; Harvard University's experiment, TraceFi; and China's surveillance network. Other nations rejected China-style surveillance in favor of systems based on Bluetooth, GPS, and cell towers, but Landau explains the limitations of these technologies. She also reports that many current apps appear to be premised on a model of middle-class income and a job that can be done remotely. How can they be effective when low-income communities and front-line workers are the ones who are hit hardest by the virus? COVID-19 will not be our last pandemic; we need to get this essential method of infection control right.
About the Author
Susan Landau is Bridge Professor of Cyber Security and Policy at The Fletcher School and at the School of Engineering, Department of Computer Science, at Tufts University. She is the coauthor of Privacy on the Line (MIT Press) and the author of Surveillance or Security? (MIT Press) and Listening In: Cybersecurity in an Insecure Age.
Praise for People Count: Contact-Tracing Apps and Public Health
"In a pandemic, good science is what we need. Now, a year and a half later, in People Count: Contact Tracing Apps and Public Health, Tufts University professor Susan Landau has set out to make a sober assessment."
—ZDNET
"Contact-tracing apps can be a useful tool for public health, but they have considerable false positive and false negative rates."
—Big Think