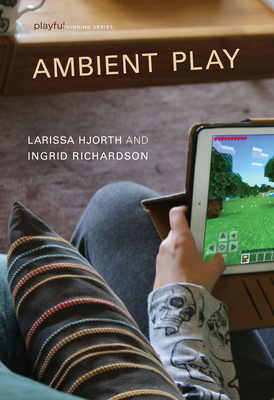 Ambient Play (Playful Thinking)
Publication Date:
September 15th, 2020
The MIT Press Bookstore
2 on hand, as of Nov 30 10:32am
(CS:GS)
On Our Shelves Now
Description
How mobile games are part of our day-to-day lives and the ways we interact across digital, material, and social landscapes.
We often play games on our mobile devices when we have some time to kill—waiting in line, pausing between tasks, stuck on a bus. We play in solitude or in company, alone in a bedroom or with others in the family room. In Ambient Play, Larissa Hjorth and Ingrid Richardson examine how mobile gameplay fits into our day-to-day lives. They show that as mobile games spread across different genres, platforms, practices, and contexts, they become an important way of experiencing and navigating a digitally saturated world. Mobile games become conduits for what the authors call ambient play, pervading much of our social and communicative terrain. We become digital wayfarers, moving constantly among digital, social, and social worlds.
Hjorth and Richardson explore how households are transformed by media—how idiosyncratic media use can alter the spatial composition and emotional cadence of the home. They show how mobile games connect domestic forms of play with more public forms of playfulness in urban spaces, how collaborative play (both networked and face-to-face) is incorporated into private and public play, and how touchscreens and haptic play emphasize the perception of the moving body. Hjorth and Richardson invite us to think of mobile gaming as more than a "casual" distraction but as a complex cultural practice embedded into our contemporary ways of being, knowing, and communicating.
Praise for Ambient Play (Playful Thinking)
"Ambient Play is a much-needed and incredibly useful book for all those interested in how mobile games, as locative and haptic activities, are intertwined with our daily social practices that occur across urban and domestic spaces. Through rigorous ethnographic work, Hjorth and Richardson delve into the exciting ways mobile games are transforming our contemporary lives."
—Adriana de Souza e Silva, Professor of Communication, North Carolina State University
 
"Larissa Hjorth and Ingrid Richardson's Ambient Play is an insightful and engaging account of the ways in which people play with mobile media, embracing the multiple forms and meanings that play takes in our lives."
—Miguel Sicart, Associate Professor, Center for Computer Games Research, IT University of Copenhagen; author of Play Matters
 
"Ambient Play looks at play and games where they actually happen—in real life! Though direct observation and study, Hjorth and Richardson open up whole new avenues for thinking about how games fit into our lives."
—Colleen Macklin, Associate Professor of Media Design, The New School; coauthor of Iterate: Ten Lessons in Design and Failure
"Written in an accessible yet authoritative style, this text will be of interest to game designers and students of sociology and psychology. The case studies presented throughout are relatable, and the analysis of play as cultural practice is insightful and thought provoking."
—Choice
"Ambient Play is a masterful dissection of mobile games as an unwitting facilitator of ambience in our contemporary lives."
—Mobile Media & Communication
"In Ambient Play, authors Larissa Hjorth and Ingrid Richardson cogently point to how play overshadows so many aspects of everyday media consumption. In doing so, they set a robust agenda for the future of ludological research and expose critical gaps in the field. [ . . . ] [F]or those interested in exploring the frontiers of games and play, as well as how they persist and punctuate our everyday lives and activity, this pertinent book establishes a new set of frames to recognize, feel, and better apprehend play in society."
—Critical Studies in Media Communication