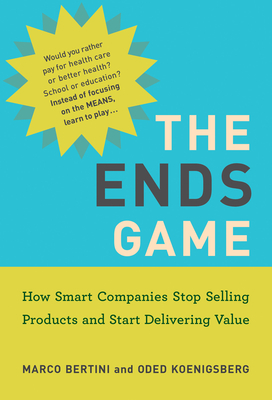 The Ends Game: How Smart Companies Stop Selling Products and Start Delivering Value (Management on the Cutting Edge)
Publication Date:
September 8th, 2020
Special Order - Subject to Availability
Description
How some firms are rewriting the rules of commerce by pursuing "ends"—actual outcomes—rather than selling "means"—their products and services.
Would you rather pay for healthcare or for better health? For school or education? For groceries or nutrition? A car or transportation? A theater performance or entertainment? In The Ends Game, Marco Bertini and Oded Koenigsberg describe how some firms are rewriting the rules of commerce: instead of selling the "means" (their products and services), they adopt innovative revenue models to pursue "ends" (actual outcomes). They show that paying by the pill, semester, food item, vehicle, or show does not necessarily reflect the value that customers actually derive from their purchases. Revenue models anchored on the ownership of products, they argue, are patently inferior.
Bertini and Koenigsberg explain that advances in technology have made it possible for firms to collect "impact data" that tells them when and how customers use their products and how those products perform, and that firms can draw on this data to turn products into seamless services. New revenue models will enable transparency, accountability, and efficiency.
Bertini and Koenigsberg offer real-world examples of how companies in healthcare, transportation, education, and other sectors are already playing "the ends game," describing, among other things, the successes of Dollar Shave Club, Rent the Runway, and "pay as you fly" insurance for drone flights.
Finally, they outline the challenges in adopting these new models, offering guidance on such issues as criteria for defining an outcome, concerns over data collection, and internal organizational obstacles.
Praise for The Ends Game: How Smart Companies Stop Selling Products and Start Delivering Value (Management on the Cutting Edge)
"A superb, nuanced, and wide-ranging book, The Ends Game is a must-read for anyone involved in strategy, business model design, marketing, customer relations, or organizational development. The authors, Marco Bertini and Oded Koenigsberg, professors of marketing at the ESADE Business School and London Business School, respectively, convincingly argue that playing the "ends game" can produce superior results for both companies and customers,  but it takes skill to play it well...Bertini and Koenigsberg make an impassioned and ambitious case for rewriting the rules of commerce."
– Strategy + Business
 
"This is a deeply researched and insightful work, offering a coherent vision of why playing the Ends Game is the future of business. It lays out a concise manifesto for business model disruption, centered on revenue models, and explains why pricing models are the essence of business."
– INC

"Digital technologies are transforming every business but the core principle of value creation endures: take care of the customer. But how? Bertini and Koenigsberg provide managers an insightful roadmap based on careful research and lively examples."
– Erik Brynjolfsson, Professor, Stanford University; coauthor of The Second Machine Age: Work, Progress, and Prosperity in a Time of Brilliant Technologies
"In order for organizations to justify a 'forever transaction' with the customers they serve, they need to start by aligning their goals with those of the customer. Only by putting the customer at the center of everything they do can organizations maximize value creation. Before hopping on the bandwagon of the latest pricing scheme, read this book to understand the bigger picture."
– Robbie Kellman Baxter, Founder, Peninsula Strategies; author of The Membership Economy and The Forever Transaction
"The Ends Game elevates our current understanding of pricing to the next level. The book is simultaneously rigorous and practical, and belongs on any executive's shelf."
– Hermann Simon, Founder and Honorary Chairman, SimonKucher & Partners
"Consumers don't buy products, they buy solutions to their problems. Products are a means to an end. This book highlights this simple but powerful idea, and explains its implications for business practices. A timely and mustread book."
– Sunil Gupta, Edward W. Carter Professor of Business, Harvard Business School; author of Driving Digital Strategy