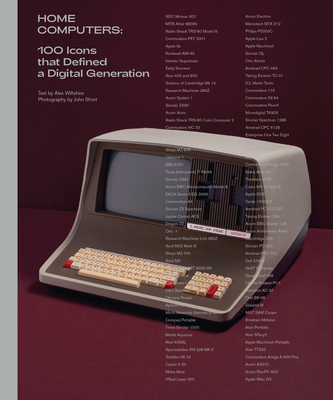 Home Computers: 100 Icons that Defined a Digital Generation
Publication Date:
May 19th, 2020
The MIT Press Bookstore
1 on hand, as of Sep 26 1:27pm
(DIGST)
On Our Shelves Now
Description
A celebration of the early years of the digital revolution, when computing power was deployed in a beige box on your desk.
Today, people carry powerful computers in our pockets and call them "phones." A generation ago, people were amazed that the processing power of a mainframe computer could be contained in a beige box on a desk. This book is a celebration of those early home computers, with specially commissioned new photographs of 100 vintage computers and a generous selection of print advertising, product packaging, and instruction manuals. Readers can recapture the glory days of fondly remembered (or happily forgotten) machines including the Commodore 64, TRS-80, Apple Lisa, and Mattel Aquarius—traces of the techno-utopianism of the not-so-distant past.
Home Computers showcases mass-market success stories, rarities, prototypes, one-offs, and never-before-seen specimens. The heart of the book is a series of artful photographs that capture idiosyncratic details of switches and plugs, early user-interface designs, logos, and labels. After a general scene-setting retrospective, the book proceeds computer by computer, with images of each device accompanied by a short history of the machine, its inventors, its innovations, and its influence. Readers who inhabit today's always-on, networked, inescapably connected world will be charmed by this visit to an era when the digital revolution could be powered down every evening.
Praise for Home Computers: 100 Icons that Defined a Digital Generation
"Will appeal to the most avid computer aficionados."
—Publishers Weekly

"From the Apple Lisa to the Mattel Aquarius, detailed images of the machines that gave rise, over the years, to the digital revolution."

— New York Times Book Review 
"A world away from the devices used today, the computers in the book illustrate the rapid march of technology."
—The Guardian
"Whether you remember waiting for dial-up access, tiny screens, and green lines of text or not, you'll get a kick out of Alex Wiltshire's travel back in time to when computers came with wires."
—PopMatters
"These  images of retro personal computers are a throwback to their humble beginnings, revealing the technological evolution of the devices over their first 25 years."
—New Scientist
"The pictures are beautifully shot and capture the visual aesthetic of the home computer revolution...Anyone who devoured the pages of 1980s computer magazines, lusting after each and every beast in the menagerie, will find much here to revive the appetite."
—ZDNET
"The story of how computers infiltrated our homes is not one of technology, but one of marketing and design, according to writer and journalist Alex Wiltshire, whose new book, "Home Computers: 100 Icons that Defined a Digital Generation," tells the industry's early history through its most influential models."—CNN STYLE