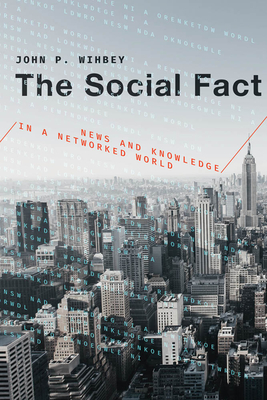 The Social Fact: News and Knowledge in a Networked World
Publication Date:
April 16th, 2019
The MIT Press Bookstore
3 on hand, as of Nov 30 10:32am
(MEDIA)
On Our Shelves Now
Description
How the structure of news, information, and knowledge is evolving and how news media can foster social connection.
While the public believes that journalism remains crucial for democracy, there is a general sense that the news media are performing this role poorly. In The Social Fact, John Wihbey makes the case that journalism can better serve democracy by focusing on ways of fostering social connection. Wihbey explores how the structure of news, information, and knowledge and their flow through society are changing, and he considers ways in which news media can demonstrate the highest possible societal value in the context of these changes.
Wihbey examines network science as well as the interplay between information and communications technologies (ICTs) and the structure of knowledge in society. He discusses the underlying patterns that characterize our increasingly networked world of information—with its viral phenomena and whiplash-inducing trends, its extremes and surprises. How can the traditional media world be reconciled with the world of social, peer-to-peer platforms, crowdsourcing, and user-generated content? Wihbey outlines a synthesis for news producers and advocates innovation in approach, form, and purpose. The Social Fact provides a valuable framework for doing audience-engaged media work of many kinds in our networked, hybrid media environment. It will be of interest to all those concerned about the future of news and public affairs.
Praise for The Social Fact: News and Knowledge in a Networked World
The book is about the role of journalism in our networked world, how our current information technologies and the networks that form in and through them impact knowledge, as well as what we could do to make the sharing of knowledge healthier and less susceptible to distortion and manipulation. Wihbey does this through giving readers clear and helpful primers on things like network science and artificial intelligence as they relate to the flows of information, all anchored in the history of journalism and network technologies – especially helpful because it shows the questions we face today aren't entirely different from ones that have been asked and answered in the past. I find that reassuring.—Inside Higher Education—
The Social Fact is an intriguing and worthwhile read and Wihbey provides valuable insights, that while primarily for journalists, are germane to the work of news producers, social scientists, or anyone interested in disseminating more valueadded "information" in an environment where social facts coexist with fake news, misinformation, and half-truths.
—Journal of Broadcasting & Electronic Media—
This reviewer knows of no better introduction to the challenges new information technology brings to the study of media and the profession of journalism.
—Choice—