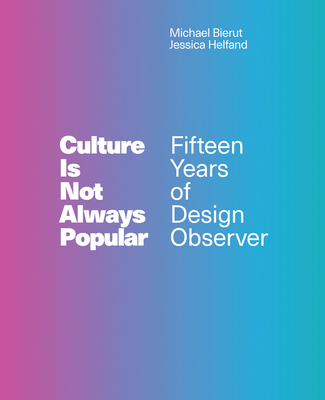 Culture Is Not Always Popular: Fifteen Years of Design Observer
Publication Date:
January 1st, 2019
The MIT Press Bookstore
4 on hand, as of Sep 21 10:34am
(DSGN)
On Our Shelves Now
Description
A collection of writing about design from the influential, eclectic, and adventurous Design Observer.
Founded in 2003, Design Observer inscribes its mission on its homepage: Writings about Design and Culture. Since its inception, the site has consistently embraced a broader, more interdisciplinary, and circumspect view of design's value in the world—one not limited by materialism, trends, or the slipperiness of style. Dedicated to the pursuit of originality, imagination, and close cultural analysis, Design Observer quickly became a lively forum for readers in the international design community. Fifteen years, 6,700 articles, 900 authors, and nearly 30,000 comments later, this book is a combination primer, celebration, survey, and salute to a certain moment in online culture. This collection includes reassessments that sharpen the lens or dislocate it; investigations into the power of design idioms; off-topic gems; discussions of design ethics; and experimental writing, new voices, hybrid observations, and other idiosyncratic texts.
Since its founding, Design Observer has hosted conferences, launched a publishing imprint, hosted three podcasts, and attracted more than a million followers on social media. All of these enterprises are rooted in the original mission to engage a broader community by sharing ideas on ways that design shapes—and is shaped by—our lives.
Contributors include
Sean Adams, Allison Arieff, Ashleigh Axios, Eric Baker, Rachel Berger, Andrew Blauvelt, Liz Brown, John Cantwell, Mark Dery, Michael Erard, Stephen Eskilson, Bryan Finoki, Kenneth FitzGerald, John Foster, Steven Heller, Karrie Jacobs, Meena Kadri, Mark Lamster, Alexandra Lange, Francisco Laranjo, Adam Harrison Levy, Mimi Lipson, KT Meaney, Thomas de Monchaux, Randy Nakamura, Phil Patton, Maria Popova, Rick Poynor, Louise Sandhaus, Dmitri Siegel, Martha Scotford, Adrian Shaughnessy, Andrew Shea, John Thackara, Dori Tunstall, Alice Twemlow, Tom Vanderbilt, Véronique Vienne, Alissa Walker, Rob Walker, Lorraine Wild, Timothy Young
About the Author
Michael Bierut is a partner in the New York office of Pentagram. His book How to Use Graphic Design to Sell Things, Explain Things, Make Things Look Better, Make People Laugh, Make People Cry, and (Every Once in a While) Change the World accompanied a 2015 retrospective of his work, which was part of the School of Visual Art's Masters Series. Cofounder of Design Observer and cohosts of two podcasts, he is on the faculty at Yale School of Art and Yale School of Management and a recipient of the AIGA Medal, the design profession's highest honor.
Jessica Helfand is a designer, artist, and writer. Educated at Yale University, where she has taught for more than twenty years, she is a cofounder of Design Observer and the author of numerous books on visual and cultural criticism. The first Henry Wolf Resident at the American Academy in Rome, Helfand has been a Director's Guest at the Civitella Foundation and a fellow at the Bogliasco Foundation. She will be the artist in residence at the California Institute of Technology in the winter of 2020.
Praise for Culture Is Not Always Popular: Fifteen Years of Design Observer
This retrospective of the website Design Observer, which radically reinvented contemporary criticism when it debuted in 2003, is perfectly timed as the design industry re-examines the state of its discourse. —Curbed—