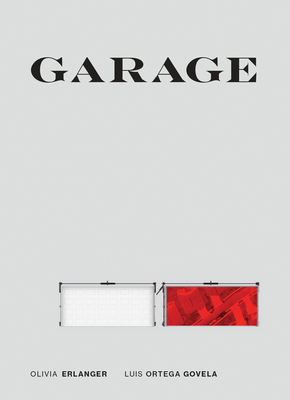 Garage
Publication Date:
October 23rd, 2018
The MIT Press Bookstore
1 on hand, as of Dec 8 10:45am
(AH)
On Our Shelves Now
Description
A secret history of the garage as a space of creativity, from its invention by Frank Lloyd Wright to its use by start-ups and garage bands.
Frank Lloyd Wright invented the garage when he moved the automobile out of the stable into a room of its own. Steve Jobs and Steve Wozniak (allegedly) started Apple Computer in a garage. Suburban men turned garages into man caves to escape from family life. Nirvana and No Doubt played their first chords as garage bands. What began as an architectural construct became a cultural construct. In this provocative history and deconstruction of an American icon, Olivia Erlanger and Luis Ortega Govela use the garage as a lens through which to view the advent of suburbia, the myth of the perfect family, and the degradation of the American dream.
The stories of what happened in these garages became self-fulfilling prophecies the more they were repeated. Hewlett-Packard was founded in a garage that now bears a plaque: The Birthplace of Silicon Valley. Google followed suit, dreamed up in a Menlo Park garage a few decades later. Also conceived in a garage: the toy company Mattel, creator of Barbie, the postwar, posthuman representation of American women. Garages became guest rooms, game rooms, home gyms, wine cellars, and secret bondage lairs, a no-commute destination for makers and DIYers—surfboard designers, ski makers, pet keepers, flannel-wearing musicians, weed-growing nuns. The garage was an aboveground underground, offering both a safe space for withdrawal and a stage for participation—opportunities for isolation or empowerment.
Praise for Garage
Refreshingly unpretentious [and] narratively nimble.—Art in America—
This is a vigorous, thought-provoking book that, after decades of urban boosterism, rightly draws our attention back to the suburbs.
—Times Higher Education—
Unadorned and unheated, a garage might seem like a utilitarian place. But in the analysis of Erlanger, an artist, and Ortega, an architect, the garage is a central space of 20th-century America, where modernism and suburban values collide with unexpected power.
—Atlas Obscura—
Garage is an unusual book for an unusual time in history… Erlanger and Govela elevate the humble architectural garage into a metaphor for how far we have strayed from what we thought we were so close to until so recently: objectivity, truth, authenticity and historical accuracy. It is my hope that Garage inspires future authors to open up and produce new histories of subjects long thought to be closed cases: a new history of the kitchen, the bedroom, the backyard, and perhaps even newer histories of the common garage.
—Archinect—
No one truly needs a domestic garage to park a car; space is available, if not readily, on city streets. So why do garages exist? The reason may have nothing to do with parking. In their recent book, Garage, Olivia Erlanger, an artist, and Luis Ortega Govela, an architect, coin a term, 'garageification,' which describes a strange excrescence, initially unrelated to the central functions of the home, acquiring a life of its own and beginning to blend previously separate realms.
—The New Yorker—
As a model of historically informed cultural studies, Garage warns us to be wary of romanticizing this one-of-a-kind space, even as it underscores why we are so tempted to do just that.
—PopMatters—