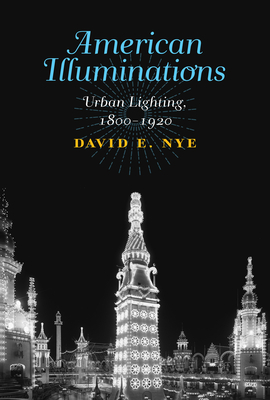 American Illuminations: Urban Lighting, 1800-1920
Publication Date:
February 2nd, 2018
The MIT Press Bookstore
3 on hand, as of Sep 21 10:34am
(STS)
On Our Shelves Now
Description
How Americans adapted European royal illuminations for patriotic celebrations, spectacular expositions, and intensely bright commercial lighting to create the world's most dazzling and glamorous cities.
Illuminated fêtes and civic celebrations began in Renaissance Italy and spread through the courts of Europe. Their fireworks, torches, lamps, and special effects glorified the monarch, marked the birth of a prince, or celebrated military victory. Nineteenth-century Americans rejected such monarchial pomp and adapted spectacular lighting to their democratic, commercial culture. In American Illuminations, David Nye explains how they experimented with gas and electric light to create illuminated cityscapes far brighter and more dynamic than those of Europe, and how these illuminations became symbols of modernity and the conquest of nature.
Americans used gaslight and electricity in parades, expositions, advertising, elections, and political spectacles. In the 1880s, cities erected powerful arc lights on towers to create artificial moonlight. By the 1890s they adopted more intensive, commercial lighting that defined distinct zones of light and glamorized the city's White Ways, skyscrapers, bridges, department stores, theaters, and dance halls. Poor and blighted areas disappeared into the shadows. American illuminations also became integral parts of national political campaigns, presidential inaugurations, and victory celebrations after the Spanish-American War and World War I.
About the Author
David E. Nye is Senior Research Fellow at the Charles Babbage Institute and the History of Science and Technology program at the University of Minnesota and Professor Emeritus of American Studies at the University of Southern Denmark. His other books published by the MIT Press include Electrifying America and American Technological Sublime. He was awarded the Leonardo da Vinci Medal in 2005 and was knighted by the Queen of Denmark in 2013.
Praise for American Illuminations: Urban Lighting, 1800-1920
Nye's thoughtfully argued, richly illustrated, and wide-ranging study of the cultural impulses fueling a period of intense technological change is sure to be of interest.—Technology and Culture—