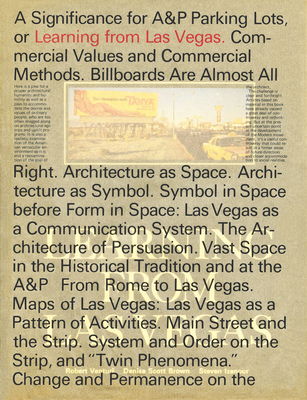 Learning from Las Vegas, facsimile edition
Publication Date:
September 22nd, 2017
Special Order - Subject to Availability
Description
A fascimile edition of the long-out-of-print large-format edition designed by design icon Muriel Cooper.
Upon its publication by the MIT Press in 1972, Learning from Las Vegas was immediately influential and controversial. The authors made an argument that was revolutionary for its time—that the billboards and casinos of Las Vegas were worthy of architectural attention—and offered a challenge for contemporary architects obsessed with the heroic and monumental. The physical book itself, designed by MIT's iconic designer Muriel Cooper, was hailed as a masterpiece of modernist design, but the book's design struck the authors as too monumental for a text that praised the ugly and ordinary over the heroic and monumental. The MIT Press published a revised version in 1977—a modest paperback that the authors felt was more in keeping with the argument of the book—and the original Cooper-designed book fell out of print and became a highly sought-after collectors' item; it now sells for thousands of dollars in the rare book market, while the author-redesigned paperback has remained continuously in print at a price affordable to students. Now, decades after the original hardcover edition sold out, the MIT Press is publishing a facsimile edition of the original large-format Cooper-designed edition of Learning from Las Vegas, complete with translucent glassine wrap. This edition also features a spirited preface by Denise Scott Brown, looking back on the creation of the book and explaining her and Robert Venturi's reservations about the original design.
Learning from Las Vegas begins with the Las Vegas Strip and proceeds to "Ugly and Ordinary Architecture, or the Decorated Shed," on symbolism in architecture and the iconography of urban sprawl. As Scott Brown says in her introduction, the book "upended sacred cows … would not bad-mouth bad taste, and redefined architectural research."
About the Author
Robert Venturi is an award-winning architect and an influential writer, teacher, artist, and designer. His work includes includes the Sainsbury Wing of London's National Galler; renovation of the Museum of Contemporary Art, San Diego; dozens of major academic projects; and the groundbreaking Vanna Venturi House.
Denise Scott Brown is an architect, writer, and planner. She and Robert Venturi are founding principals of the influential architectural firm Venturi, Scott Brown, and Associates (VSBA), whose work and ideas have influenced generations of architects and planners.
Steven Izenour (1940-2001) was coauthor of Learning from Las Vegas (MIT Press, 1977) and a principal in the Philadelphia firm Venturi, Scott Brown and Associates, Inc (VSBA). His most noted projects at VSBA include Philadelphia's Basco showroom, the George D. Widener Memorial Treehouse at the Philadelphia Zoo, the Camden Children's Garden, and the house he designed for his parents in Stony Creek, Connecticut.