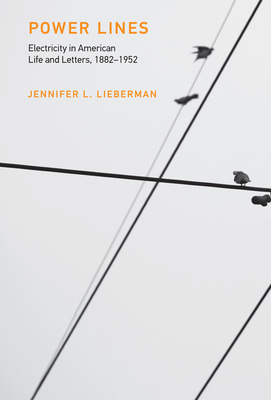 Power Lines: Electricity in American Life and Letters, 1882-1952 (Inside Technology)
Publication Date:
July 14th, 2017
The MIT Press Bookstore
2 on hand, as of Dec 5 4:07pm
(STS)
On Our Shelves Now
Description
How electricity became a metaphor for modernity in the United States, inspiring authors from Mark Twain to Ralph Ellison.
At the turn of the twentieth century, electricity emerged as a metaphor for modernity. Writers from Mark Twain to Ralph Ellison grappled with the idea of electricity as both life force (illumination) and death spark (electrocution). The idea that electrification created exclusively modern experiences took hold of Americans' imaginations, whether they welcomed or feared its adoption. In Power Lines, Jennifer Lieberman examines the apparently incompatible notions of electricity that coexisted in the American imagination, tracing how electricity became a common (though multifarious) symbol for modern life.
Lieberman examines a series of moments of technical change when electricity accrued new social meanings, plotting both power lines and the power of narrative lines in American life and literature. While discussing the social construction of electrical systems, she offers a new interpretation of Twain's use of electricity as an organizing metaphor in A Connecticut Yankee in King Arthur's Court, describes the rhetoric surrounding the invention of electric execution, analyzes Charlotte Perkins Gilman's call for human connection in her utopian writing and in her little-known Human Work, considers the theme of electrical interconnection in Jack London's work, and shows how Ralph Ellison and Louis Mumford continued the literary tradition of electrical metaphor.
Electrical power was a distinctive concept in American literary, cultural, and technological histories. For this reason, narratives about electricity were particularly evocative. Bridging the realistic and the romantic, the historical and the fantastic, these stories guide us to ask new questions about our enduring fascination with electricity and all it came to represent.