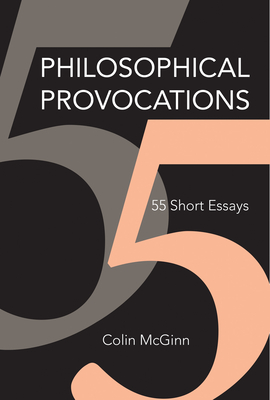 Philosophical Provocations: 55 Short Essays
Publication Date:
August 18th, 2017
The MIT Press Bookstore
1 on hand, as of Dec 8 10:45am
(PHILO)
On Our Shelves Now
Description
Pithy, direct, and bold: essays that propose new ways to think about old problems, spanning a range of philosophical topics.
In Philosophical Provocations, Colin McGinn offers a series of short, sharp essays that take on philosophical problems ranging from the concept of mind to paradox, altruism, and the relation between God and the Devil. Avoiding the usual scholarly apparatus and embracing a blunt pithiness, McGinn aims to achieve as much as possible in as short a space as possible while covering as many topics as possible. Much academic philosophical writing today is long, leaden, citation heavy, dense with qualifications, and painful to read. The essays in Philosophical Provocations are short, direct, and engaging, often challenging philosophical orthodoxy as they consider issues in mind, language, knowledge, metaphysics, biology, ethics, and religion.
McGinn is looking for new ways to think about old problems. Thus he writes, about consciousness, "I think we have been all wrong," and goes on to suggest that both consciousness and the unconscious are mysteries. Summing up his proposal on altruism, he remarks, "My suggestion can now be stated, somewhat brutally, as follows: human altruism is the result of parasitic manipulation." He takes a moment to reflect: "I really don't know why it is good to be alive, though I am convinced that the standard suggestions don't work." McGinn gets straight to the point and states his position with maximum clarity. These essays offer provocative invitations to think again.
About the Author
Colin McGinn has taught philosophy at institutions of higher learning including University College London, Rutgers University, and Oxford University. He is the author of The Character of Mind, Consciousness and Its Objects, The Meaning of Disgust, Philosophy of Language: The Classics Explained, Inborn Knowledge: The Mystery Within, Prehension: The Hand and the Emergence of Humanity (the last three published by the MIT Press), and other books.