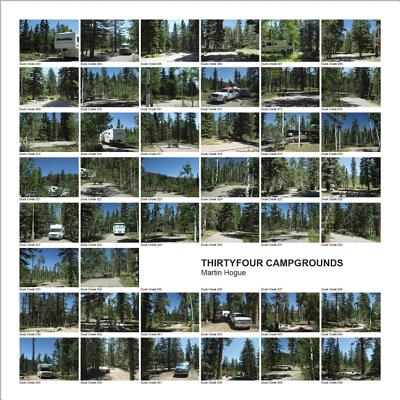 Thirtyfour Campgrounds
Publication Date:
November 4th, 2016
The MIT Press Bookstore
2 on hand, as of Dec 8 10:45am
(AT:PH)
On Our Shelves Now
Description
A photographic survey of nearly 6,500 American campsites that maps subtle differences within the seemingly identical.
Camping can make us feel a powerful connection to nature and our rugged backwoods forebears. Campers once confronted the elemental facts of life, but now, the millions of Americans taking to the road on camping trips are more likely to drive to a campground, hook up service conduits, connect to WiFi, drop their awnings, and set out patio chairs. It is as if, Martin Hogue observes, each campsite functions as a stage upon which campers perform a series of ritualized activities (pitching the tent, building a fire, cooking over flames). In Thirtyfour Campgrounds, Hogue investigates these sites, individually and in multiples, offering a photographic and typological survey of nearly 6,500 American campsites, mapping subtle differences within the apparently identical.
The central part of the book consists of color photographs of individual campsites, downloaded from such online reservation websites as reserveamerica.com and recreation.gov, organized by zip code, and arranged in grids across the pages. Hogue nods to artist Ed Ruscha's Thirtyfour Parking Lots for his title and its attitude, and to the work of Bernd and Hilla Becher for the serial arrangement of images in grids. The campsite pictures seem at first endlessly repetitious; but then the repetition makes way for difference. Time reveals itself in fading light and passing clouds, the weather changes between photographs of neighboring sites, leaves turn color and fall, in an unexpected kind of time-lapse photography. This is a book that was made so seriously that it must (not) be taken too seriously. More scientific than any campground literature, Thirtyfour Campgrounds calls the very nature of scientific survey, research, and publication into question.
Praise for Thirtyfour Campgrounds
A landscape architect meticulously depicts the intersection of Americans' desire to commune with nature with their devotion to their stuff—and hence the rituals of parking trailers, service hook-ups (today including WiFi), setting out lawn chairs, and more. Forget about traveling light.—Harvard Magazine—
The images in Thirtyfour Campgrounds, supported by Hogue's timeline of diagrams, show how we've slowly brought that life along with us. Clean restrooms, orderly tables, and, yes, wi-fi, are all available, and Thirtyfour Campgrounds explores how our desire for these amenities in the great outdoors has created a distinct form of landscape to be consumed.
—Hyperallergic—
In this photographic and typological survey of American campsites, Hogue masterfully dissects the paradox of the contemporary campground, a plot not found on the trail but reserved online, and increasingly offering comforts and amenities that undermine any concept of the rustic.
—Publishers Weekly—