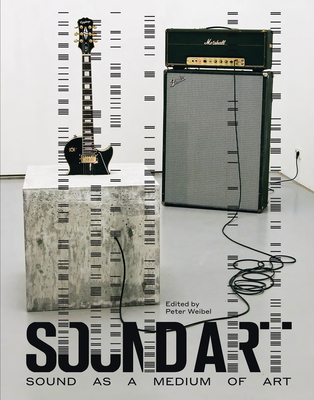 Sound Art: Sound as a Medium of Art
Publication Date:
November 5th, 2019
Usually Ships in 1 to 5 Days
Description
Essays and images that map art's new sonic cosmos, illustrated in color throughout.
This milestone volume maps fifty years of artists' engagement with sound. Since the beginning of the new millennium, numerous historical and critical works have established sound art as an artistic genre in its own right, with an accepted genealogy that begins with Futurism, Dada, and Fluxus, as well as disciplinary classifications that effectively restrict artistic practice to particular tools and venues. This book, companion volume to a massive exhibition at ZKM | Karlsruhe, goes beyond these established disciplinary divides to chart the evolution and the full potential of sound as a medium of art. The book begins with an extensive overview by volume editor Peter Weibel that considers the history of sound as media art, examining work by visual artists, composers, musicians, and architects alike. Subsequent essays examine sound experiments in antiquity, sonification of art and science, and internet-based sound art. Contributors then survey the global field of sound art research and practice, in essays that describe the past, present, and future of sound art in Germany, Japan, China, the United States, the United Kingdom, Russia, Canada, Turkey, Australia, and Scandinavia. The texts are accompanied by an extensive photographic documentation of the ZKM exhibition.
Texts by
Achille Bonito Oliva, Dmitry Bulatov, Germano Celant, Seth Cluett, Christoph Cox, Julia Gerlach, Ryo Ikeshiro und/and Atau Tanaka, Caleb Kelly, Brandon LaBelle, Christof Migone, László Moholy-Nagy, Daniel Muzyczuk, Tony Myatt, Irene Noy, Giuliano Obici, Carsten Seiffarth und/and Bernd Schulz, Başak Şenova, Linnea Semmerling, Morten Søndergaard, Alexandra Supper, David Toop und/and Adam Parkinson, Peter Weibel, Dajuin Yao, Siegfried Zielinski
About the Author
Peter Weibel is Chairman and CEO of the ZKM | Center for Art and Media Karlsruhe. With Bruno Latour, he coedited ICONOCLASH and Making Things Public as well as other ZKM volumes, including, most recently, Sound Art and Global Activism (all published by the MIT Press).