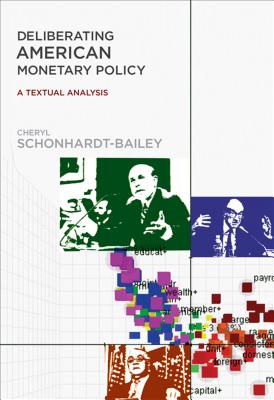 Deliberating American Monetary Policy: A Textual Analysis (Mit Press)
Publication Date:
November 1st, 2013
Special Order - Subject to Availability
Description
A systematic analysis of Federal Reserve and congressional deliberations on monetary policy, drawing on textual analysis software and in-depth interviews with participants.
American monetary policy is formulated by the Federal Reserve and overseen by Congress. Both policy making and oversight are deliberative processes, although the effect of this deliberation has been difficult to quantify. In this book, Cheryl Schonhardt-Bailey provides a systematic examination of deliberation on monetary policy from 1976 to 2008 by the Federal Reserve's Open Market Committee (FOMC) and House and Senate banking committees. Her innovative account employs automated textual analysis software to study the verbatim transcripts of FOMC meetings and congressional hearings; these empirical data are supplemented and supported by in-depth interviews with participants in these deliberations. The automated textual analysis measures the characteristic words, phrases, and arguments of committee members; the interviews offer a way to gauge the extent to which the empirical findings accord with the participants' personal experiences.
Analyzing why and under what conditions deliberation matters for monetary policy, the author identifies several strategies of persuasion used by FOMC members, including Paul Volcker's emphasis on policy credibility and efforts to influence economic expectations. Members of Congress, however, constrained by political considerations, show a relative passivity on the details of monetary policy.