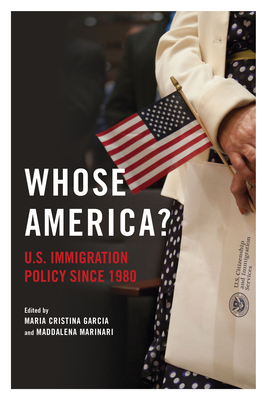 Whose America? : U.S. Immigration Policy since 1980
Maria Cristina Garcia (Editor)
,
Maddalena Marinari (Editor)
,
Elliott Young (Contributions by)
,
Monique Laney (Contributions by)
,
Yael Schacher (Contributions by)
,
Leisa J. Abrego (Contributions by)
,
Carly Goodman (Contributions by)
,
Julia Rose Kraut (Contributions by)
,
Julio Capó Jr. (Contributions by)
,
Carl Bon Tempo (Contributions by)
,
Carl Lindskoog (Contributions by)
Publication Date:
July 18th, 2023
Publisher:
University of Illinois Press
The MIT Press Bookstore
1 on hand, as of Nov 30 10:32am
(POLSI)
On Our Shelves Now
Description
A centerpiece of contemporary politics, draconian immigration policies have been long in the making. Maria Cristina Garcia and Maddalena Marinari edit works that examine the post-1980 response of legislation and policy to issues like undocumented immigration, economic shifts, national security, and human rights. Contributors engage with a wide range of ideas, including the effect of the Illegal Immigration Reform and Immigrant Responsibility Act and other laws on the flow of migrants and forms of entry; the impact of neoliberalism and post-Cold War political realignment; the complexities of policing and border enforcement; and the experiences of immigrant groups in communities across the United States.
Up-to-date yet rooted in history, Whose America? provides a sophisticated account of recent immigration policy while mapping the ideological struggle to answer an essential question: which people have the right to make America their home or refuge?
Contributors: Leisy Abrego, Carl Bon Tempo, Julio Capó, Jr., Carly Goodman, Julia Rose Kraut, Monique Laney, Carl Lindskoog, Yael Schacher, and Elliott Young
About the Author
Maria Cristina Garcia is the Howard A. Newman Professor of American Studies at Cornell University. She is the author of The Refugee Challenge in Post-Cold War America. Maddalena Marinari is an associate professor in history; gender, women, and sexuality studies; and peace studies at Gustavus Adolphus College. She is the author of Unwanted: Italian and Jewish Mobilization against Restrictive Immigration Laws, 1882–1965. Garcia and Marinari are two of the coeditors of A Nation of Immigrants Reconsidered: US Society in an Age of Restriction, 1924–1965.
Praise for Whose America? : U.S. Immigration Policy since 1980
"A truly significant contribution to the field, especially the chapters that offer historically grounded approaches to policies and events with great contemporary importance and interest. Very few other books accomplish that feat."--Charlotte Brooks, author of American Exodus: Second Generation Chinese Americans in China, 1901–1949