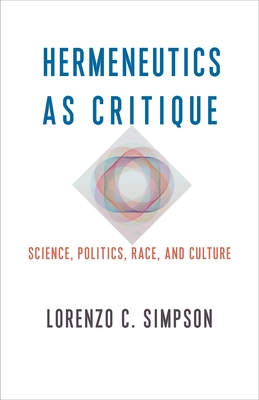 Hermeneutics as Critique: Science, Politics, Race, and Culture (New Directions in Critical Theory #72)
Publication Date:
March 2nd, 2021
Publisher:
Columbia University Press
The MIT Press Bookstore
1 on hand, as of Sep 21 10:34am
(PHILO)
On Our Shelves Now
Description
Hermeneutics has frequently been dismissed as useful only for literary and textual analysis. Some consider it to be Eurocentric or inherently relativistic and thus unsuited to social critique. Lorenzo C. Simpson offers a persuasive and powerful argument that hermeneutics is a valuable tool not only for critical theory but also for robustly addressing many of the urgent issues of today.
Simpson demonstrates that hermeneutics exhibits significant interpretive advantages compared to competing explanatory modalities. While it shares with pragmatism a suspicion of essentialism, an understanding that disagreements are situated, and an insistence on the dialogical nature of understanding, it nevertheless resolutely rejects the relativistic accounts of rationality that are often associated with pragmatism. In the tradition of Gadamer, Simpson firmly establishes hermeneutics as a resource for both philosophy and the social sciences. He shows its utility for unpacking intractable issues in the philosophy of science, multiculturalism, social epistemology, and racial and social justice in the global arena. Simpson addresses fraught questions such as why recent claims that "race" has a biological basis lack grounding, whether female genital excision can be critically addressed without invidious ethnocentrism, and how to lay the foundations for meaningful cross-cultural dialogue and reparative justice. This book reveals how hermeneutics can be a worthy partner with critical theory in achieving emancipatory aims.