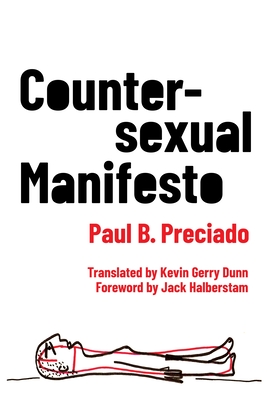 Countersexual Manifesto (Critical Life Studies)
Publication Date:
December 18th, 2018
Publisher:
Columbia University Press
The MIT Press Bookstore
1 on hand, as of Dec 8 10:45am
(SS:GS)
On Our Shelves Now
Description
Countersexual Manifesto is an outrageous yet rigorous work of trans theory, a performative literary text, and an insistent call to action. Seeking to overthrow all constraints on what can be done with and to the body, Paul B. Preciado offers a provocative challenge to even the most radical claims about gender, sexuality, and desire.
Preciado lays out mock constitutional principles for a countersexual revolution that will recognize genitalia as technological objects and offers step-by-step illustrated instructions for dismantling the heterocentric social contract. He calls theorists such as Derrida, Foucault, Butler, and Haraway to task for not going nearly far enough in their attempts to deconstruct the naturalization of normative identities and behaviors. Preciado's claim that the dildo precedes the penis--that artifice, not nature, comes first in the history of sexuality--forms the basis of his demand for new practices of sexual emancipation. He calls for a world of sexual plasticity and fabrication, of bio-printers and "dildonics," and he invokes countersexuality's roots in the history of sex toys, pornography, and drag in order to rupture the supposedly biological foundations of the heterocentric regime. His claims are extreme, but supported through meticulous readings of philosophy and theory, as well as popular culture. The Manifesto is now available in English translation for its twentieth anniversary, with a new introduction by Preciado. Countersexual Manifesto will disrupt feminism and queer theory and scandalize us all with its hyperbolic but deadly serious defiance of everything we've been told about sex.