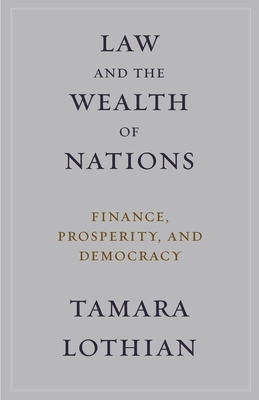 Law and the Wealth of Nations: Finance, Prosperity, and Democracy
Publication Date:
December 3rd, 2019
Publisher:
Columbia University Press
The MIT Press Bookstore
1 on hand, as of Nov 30 10:32am
(POLSI)
On Our Shelves Now
Description
Economic stagnation, financial crisis, and increasing inequality have provoked worldwide debate about the reshaping of the market economy. But few are willing to risk a reorientation of dominant ideas and a reform of entrenched structures. Right-wing populism has stepped into the void created by a failure to imagine structural alternatives. Tamara Lothian offers a deeper view showing the path to the reconstruction of the economy in the service of both growth and inclusion. She probes the institutional innovations that would reignite economic growth by democratizing the market. Progressives have traditionally focused only on the demand side of the economy, abandoning the supply side to conservatives.
Law and the Wealth of Nations offers a progressive approach to the supply side of the economy and proposes innovation in our fundamental economic arrangements. Lothian begins by exploring how finance can serve broad-based economic growth rather than serving only itself. She goes on to show how the reform of finance can lead into the democratization of the economy. How, she asks, can we ensure that the most advanced, knowledge-intensive practices of production spread throughout the economy rather than remaining in the hands of the entrepreneurial and technological elite? How can we anchor greater economic equality and empowerment in the way we organize the economy rather than just trying to diminish inequalities after the fact by progressive taxation and entitlements? How can we revise legal thought and economic theory to develop the intellectual equipment that these tasks require? Law and the Wealth of Nations will appeal to all who are searching for ways to think practically about change in our economic and political institutions.
About the Author
Tamara Lothian (1958-2016) wrote and taught widely in law and political economy after an early career in international finance. A companion volume, Finance and Democracy in America, is forthcoming from Columbia University Press.