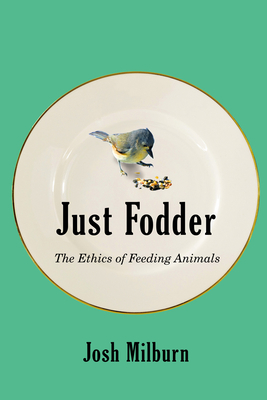 Just Fodder: The Ethics of Feeding Animals
Publication Date:
July 19th, 2022
Publisher:
McGill-Queen's University Press
The MIT Press Bookstore
1 on hand, as of Dec 5 4:07pm
(NATUR)
On Our Shelves Now
Description
Animal lovers who feed meat to other animals are faced with a paradox: perhaps fewer animals would be harmed if they stopped feeding the ones they love. Animal diets do not raise problems merely for individuals. To address environmental crises, health threats, and harm to animals, we must change our food systems and practices. And in these systems, animals, too, are eaters.Moving beyond what humans should eat and whether to count animals as food, Just Fodder answers ethical and political questions arising from thinking about animals as eaters. Josh Milburn begins with practical dilemmas about feeding the animals closest to us, our pets or animal companions. The questions grow more complicated as he considers relationships with more distance – questions about whether and how to feed garden birds, farmland animals who would eat our crops, and wild animals. Milburn evaluates the nature and circumstances of our relationships with animals to generate a novel theory of animal rights.Looking past arguments about what we can and cannot do to other beings, Just Fodder asks what we can, should, and must do for them, laying out a fuller range of our ethical obligations to other animals.
Praise for Just Fodder: The Ethics of Feeding Animals
"That philosophers—to say nothing of political theorists—have largely failed to seriously address the ethics of feeding animals is likely a reflection of how they have, until relatively recently, failed to take animal ethics in general seriously. Just Fodder—beyond being itself a lucid and thoughtful account of an important topic—is therefore a heartening indication of the current state of animal ethics, and an exciting sign of the inquiries still to come." *Contemporary Political Theory *
"The book is a very valuable contribution to a debate that we must eventually have in our societies." Daily Philosophy
"Just Fodder paves the way for a new road of enquiry into a topic that is not itself new at all: we have been directly or indirectly impacting on animals' diets for millennia. That philosophers—to say nothing of political theorists—have largely failed to seriously address the ethics of feeding animals is likely a reflection of how they have, until relatively recently, failed to take animal ethics in general seriously.* Just Fodder*—beyond being itself a lucid and thoughtful account of an important topic—is therefore a heartening indication of the current state of animal ethics, and an exciting sign of the inquiries still to come." Journal of Moral Philosophy
"[Just Fodder] brings a significant and imperative contribution for animal advocates (and/or activists), social scientists, philosophers and other academic sectors parties to think about and understand the animal-human relationship from a broader point-of-view. For animal lovers, animal activists or animal advocates who have (or don't have) relationships with animals, it is worth reading this book and thinking more profoundly about the ethical questions raised by the author." The Vegan Society
"A beautifully crafted and argued work, and ultimately a deeply hopeful perspective on the possibilities for just human-animal relationships." Sue Donaldson, Queen's University and co-author of Zoopolis: A Political Theory of Animal Rights