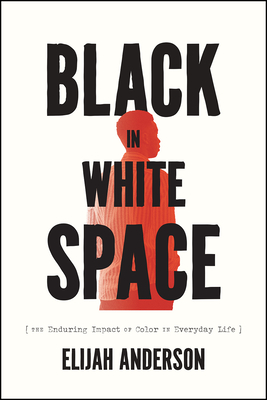 Black in White Space: The Enduring Impact of Color in Everyday Life
Publication Date:
April 5th, 2023
Publisher:
University of Chicago Press
The MIT Press Bookstore
1 on hand, as of Dec 8 10:45am
(SS:RI)
On Our Shelves Now
Description
From the vital voice of Elijah Anderson, Black in White Space sheds fresh light on the dire persistence of racial discrimination in our country.
A birder strolling in Central Park. A college student lounging on a university quad. Two men sitting in a coffee shop. Perfectly ordinary actions in ordinary settings—and yet, they sparked jarring and inflammatory responses that involved the police and attracted national media coverage. Why? In essence, Elijah Anderson would argue, because these were Black people existing in white spaces.
 
In Black in White Space, Anderson brings his immense knowledge and ethnography to bear in this timely study of the racial barriers that are still firmly entrenched in our society at every class level. He focuses in on symbolic racism, a new form of racism in America caused by the stubbornly powerful stereotype of the ghetto embedded in the white imagination, which subconsciously connects all Black people with crime and poverty regardless of their social or economic position. White people typically avoid Black space, but Black people are required to navigate the "white space" as a condition of their existence. From Philadelphia street-corner conversations to Anderson's own morning jogs through a Cape Cod vacation town, he probes a wealth of experiences to shed new light on how symbolic racism makes all Black people uniquely vulnerable to implicit bias in police stops and racial discrimination in our country.
 
An unwavering truthteller in our national conversation on race, Anderson has shared intimate and sharp insights into Black life for decades. Vital and eye-opening, Black in White Space will be a must-read for anyone hoping to understand the lived realities of Black people and the structural underpinnings of racism in America. 
Praise for Black in White Space: The Enduring Impact of Color in Everyday Life
"Penetrating ethnographic study. . . . [A] fine-grained portrait of how systemic racism operates."
— Publishers Weekly
"Anderson is a legendary sociologist whose high ascent into the Academy has always yielded profound insights into the precious Black people living and loving on the night side of the American Empire. This text is another masterpiece from his flaming pen!'"
— Cornel West
"With creative concepts and phrases, Anderson builds on his previous ethnographic research to illuminate racial reactions in settings of recurrent intergroup contact. Black in White Space is a captivating book that is a must-read for anyone seeking a lucid discussion of American race relations."
— William Julius Wilson, Harvard University
"Black in White Space is an elegantly composed, brilliant, and intimate look at how Black people are seen in and navigate through predominantly white spaces. This will be an extremely useful text—particularly as we grapple with what diversity means in its substance as an aspiration."
— Imani Perry, Princeton University
"Explains how not just urban ghetto Blacks, but successful Blacks living elsewhere, share the need to manage the enduring stigma of being treated as inferiors. This is not Ralph Ellison's 'Invisible Man' but the hypervisible Black person."
— Mary Frances Berry, University of Pennsylvania
"Rich in ethnographic detail and anchored in historical and sociological perspective, Black in White Space brilliantly informs us about the personal and social consequences of living in a society still stratified by racial inequality."
— Margaret L. Andersen, author of Getting Smart about Race: An American Conversation
"Anderson's crowning masterpiece, Black in White Space is an incisive analysis of the iconic ghetto that illuminates the reality of white racism from police murders to everyday acts of disrespect."
— Fred Block, University of California, Davis
"With elegant prose, deep ethnography, and incisive theorizing, these essays demonstrate why Anderson is one of America's 'wise men.' Black in White Space piercingly illuminates not only the chasm but also the crevasses that divide racial understandings in the United States."
— Jeffrey C. Alexander, Yale University
"Once again, Anderson demonstrates his clear mastery of the issue of race in America. This book is his gift to all of us who yearn for a nation of equality."
— The Honorable Rev. Dr. W. Wilson Goode, Sr., Former Mayor, City of Philadelphia
"Anderson is the Erving Goffman of race relations. He reveals the human realities behind the statistics and the everyday life behind the headlines."
— Randall Collins, author of Charisma: Micro-sociology of Power and Influence
"Black inWhite Space is a searing ethnographic depiction of everyday life in America. Anderson's work has redefined sociology, especially our understanding of race and the history of anti-Blackness. Anderson explains what it means to be Black in America at this moment in history, offering powerful insights into the ways economic deprivation, anti-Black racism, and social marginalization shape the Black American experience. In short, Black in White Space is nothing less than an ethnographic portrait of America."
— Waverly Duck, author of 'Tacit Racism'
"Anderson grounds readers in what is essentially a theoretical and empirical study that explores why racism in America does not have an income cap. What follows is a compelling theoretical argument and Anderson's quintessential style of ethnography, capturing the microinteractions that create the ongoing marginalization of the Black middle-class."
— Symbolic Interaction
"[Black in White Space] adds a significant and important contribution to our understanding of how race, space and place intersect in a world where the colour line is always present but at times shifts, blurs or appears to be momentarily erased. Anderson's [book] is momentous, trenchant and insightful contribution into race relations, specifically how white racism is forever recalibrating and morphing into something that ostensibly seems more benign and palatable to White folks' sometimes naïve, oblivious or jaded racial sensibilities."
— Ethnic and Race Studies
"Black in White Space provides an inside look at the everyday injustices that Black people face in white spaces in the US. During a time when mainstream white communities are intent on registering and responding to overt manifestations of racism and extreme white supremacists, this book helps create a more comprehensive picture of the workings of anti-Black racism by highlighting the small but pervasive ways in which white supremacy impacts the lives of Black people."
— Choice
"In his latest opus, Black in White Space: The Enduring Impact of Color in Everyday Life, Elijah Anderson, Sterling Professor of Sociology and African American Studies at Yale, explores the contours of daily life for urban black folk as they navigate predominantly white spaces. A keen observer of human interaction and the human condition, Anderson combines his observational skills, penetrating storytelling, and sociological insights to probe and decode the social organization of city life."
— Sociological Forum