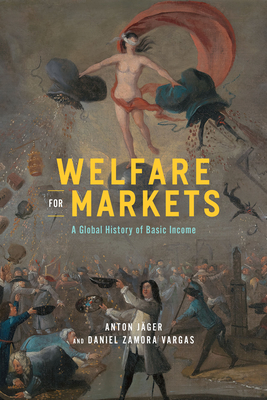 Welfare for Markets: A Global History of Basic Income (The Life of Ideas)
Publication Date:
April 18th, 2023
Publisher:
University of Chicago Press
The MIT Press Bookstore
1 on hand, as of Nov 29 10:27am
(ECON)
On Our Shelves Now
Description
A sweeping intellectual history of the welfare state's policy-in-waiting.
The idea of a government paying its citizens to keep them out of poverty—now known as basic income—is hardly new. Often dated as far back as ancient Rome, basic income's modern conception truly emerged in the late nineteenth century. Yet as one of today's most controversial proposals, it draws supporters from across the political spectrum.
In this eye-opening work, Anton Jäger and Daniel Zamora Vargas trace basic income from its rise in American and British policy debates following periods of economic tumult to its modern relationship with technopopulist figures in Silicon Valley. They chronicle how the idea first arose in the United States and Europe as a market-friendly alternative to the postwar welfare state and how interest in the policy has grown in the wake of the 2008 credit crisis and COVID-19 crash.
An incisive, comprehensive history, Welfare for Markets tells the story of how a fringe idea conceived in economics seminars went global, revealing the most significant shift in political culture since the end of the Cold War.
Praise for Welfare for Markets: A Global History of Basic Income (The Life of Ideas)
"The strengths of Jäger and Zamora's historical approach are indisputable. They amply demonstrate what others have only hinted at—the depths of the political-economic and cultural shifts that led to the ascendence of market fundamentalism in the last quarter of the twentieth century. Their history is both broad and deep. Certainly it will become the authoritative account of the origins of UBI."
— Jacobin
"Though meticulously researched, Welfare for Markets is a slim volume of succinct and lucid argumentation."
— Boston Review
"Welfare for Markets [dismantles] the mythological history of UBI, which presents it as a timeless ideal of social justice backed by enlightened thinkers through the ages: Thomas More, Thomas Paine, Orestes Brownson, Charles Fourier and GDH Cole, among others. According to Jäger and Zamora Vargas, the supposed progenitors of basic income were anything but."
— New Statesman
"[There] are vital insights that can be gleaned from Welfare for Markets, which deftly surveys many of the philosophical and political quandaries that basic income poses."
— American Affairs
"Welfare for Markets [describes] how shocks to twentieth-century capitalism turned basic income into an ideal tool for deconstructing and rethinking social policy."
— Journal of Economic Literature
"Welfare for Markets is a well-chosen title for an illuminating analysis of the intellectual history of basic income."
— Counterfire
"[Jäger and Zamora Vargas] have teamed up again with this carefully researched historical reference that examines public welfare proposals from diverse ideological perspectives. They show that capitalist free markets do not benefit all individuals...This eye-opening work should be considered as a first purchase."
— Library Journal
"Welfare for Markets is a stimulating and comprehensive book that fulfils the promise of offering 'a global history of basic income'...Anton Jäger and Daniel Zamora Vargas explore, in time and space, the different proposals for guaranteed income in order to unfold the worldviews that underpin them."
— Œconomia
"At once a fascinating intellectual history of the idea of Universal Basic Income, and a trenchant but well-reasoned and nuanced critique of it: this book must be read by anyone who is interested in or affected by one of the central policy tropes of our times."
— Jayati Ghosh | University of Massachusetts Amherst
"No book in recent memory offers a comparable analysis of the multiple, sometimes outright contradictory uses of social policy in modern capitalism: the incredible variety of purposes, left and right, progressive and reactionary, to which social reformism can be put. This is history of ideas in its best, embedded in a social history that does not shy away from taking on the vexing relationship between ideas and interests — full of surprising turns, and great fun to read."
— Wolfgang Streeck | Max Planck Institute for the Study of Societies
"From Gracchi to Trump, leftists to rightists, monarchists to republicans, legalists to revolutionaries, one idea has been supported by these diverse thinkers, politicians and philosophers in some form or at some time. It is the idea of guaranteeing minimal income to all citizens. It was utopian in poor societies, it is feasible in today's rich societies, and it already exists in some variation. But can it be pushed further, to include all and be delivered regardless of circumstances? Anton Jäger and Daniel Zamora take us into an intellectual journey on which we shall meet almost every thinker we know, but they will be, most of the time, traveling with rather unexpected intellectual companions. Enjoy the ride!"
— Branko Milanovic | City University of New York
"While pundits focus on enemies such as central planning, trade unions, and public ownership, they evade conversations on the limits and contradictions of capitalism but Welfare for Markets does not hold back. This brilliant book on the intellectual history of basic income is a necessary step and a must-read!"
— Carolina Alves | Girton College, University of Cambridge
"On the surface, this book is an intellectual history of the concept of universal basic incomes. And the book is indeed a brilliant account of the genealogy of just this idea. But far beyond that, Welfare for Markets is an analysis of the relation between social welfare, the real production and provisioning of goods, and money. Welfare for Markets is a beautifully written book that allows us to step outside our troubled times to see visions for the future with new eyes."
— Isabella Weber | author of "How China Escaped Shock Therapy" | University of Massachusetts Amherst
"Welfare for Markets is a brilliant historical account of universal basic income as the Trojan Horse for politics seeking to dismantle the welfare state and to replace the collective provision of public goods with grants for markets."
— Daniela Gabor | University of the West of England, Bristol