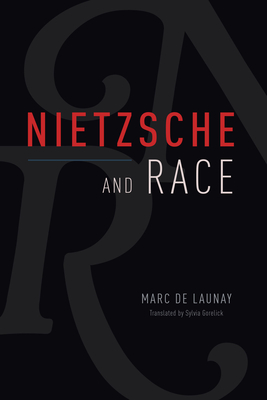 Nietzsche and Race
Publication Date:
May 17th, 2023
Publisher:
University of Chicago Press
The MIT Press Bookstore
1 on hand, as of Dec 7 10:28am
(PHILO)
On Our Shelves Now
Description
A definitive debunking of the "Nietzsche as Nazi" caricature.
 
The caricature of Friedrich Nietzsche as a proto-Nazi is still with us, having originated with his own Nazi sister, Elisabeth Förster, who curated Nietzsche's disparate texts to suit her own purposes. In Nietzsche and Race, Marc de Launay deftly counters this persistent narrative in a series of concise and highly accessible reflections on the concept of race in Nietzsche's publications, notebooks, and correspondence. Through a fresh reading of Nietzsche's core philosophical project, de Launay articulates a new understanding of race in Nietzsche's body of work free from the misunderstanding of his detractors.
About the Author
Marc de Launay is a fellow researcher of German philosophy at the CNRS and a prolific translator of German poetry and philosophy.
Sylvia Gorelick is a PhD student in comparative literature at New York University and translator of many works, including Nietzsche's Journey to Sorrento: Genesis of the Philosophy of the Free Spirit, also published by the University of Chicago Press.
Praise for Nietzsche and Race
"An admirable project."
— Publishers Weekly
"Following in the vein of Karl Schlechta, de Launay turns to Nietzsche's texts to dispel many of the misunderstandings of his ideas and thoughts. Centering the role of the Nietzsche Archive, de Launay historically contextualizes notorious efforts to associate Nietzsche's works and words with Nazism and philologically traces Nietzsche's enigmatic but decidedly non-nationalistic notion of race. In the end, de Launay rightly shifts the focus away from Nietzsche's allusions to human heredity and toward his exaltation of the universal and indiscriminate possibility of human genius."
— A. Todd Franklin, Hamilton College
"De Launay's elegantly written book is an extremely valuable introduction to Nietzsche's much misunderstood concept of 'race.' The book successfully debunks the idea that Nietzsche advanced a racist use of the term and instead foregrounds the complex historicity of the concept itself. A precise and thoughtful reader of the original texts, de Launay offers a philosophical interpretation that convincingly shows that Nietzsche's use of the term 'race' should not be understood along biologistic lines."
— Christian Emden, Rice University