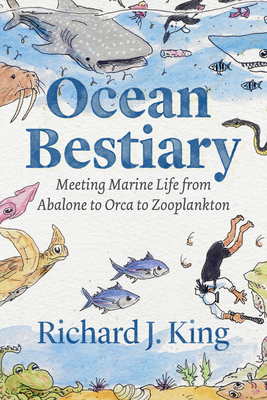 Ocean Bestiary: Meeting Marine Life from Abalone to Orca to Zooplankton (Oceans in Depth)
Publication Date:
May 26th, 2023
Publisher:
University of Chicago Press
The MIT Press Bookstore
1 on hand, as of Dec 4 10:31am
(NATUR)
On Our Shelves Now
Description
A delightful A-to-Z menagerie of the sea—whimsically illustrated, authoritative, and thought-provoking.
 
For millennia, we have taken to the waves. And yet, for humans, the ocean remains our planet's most inaccessible region, the place about which we know the least. From A to Z, abalone to zooplankton, and through both text and original illustrations, Ocean Bestiary is a celebration of our ongoing quest to know the sea and its creatures.
 
Focusing on individual species or groups of animals, Richard J. King embarks upon a global tour of ocean wildlife, including beluga whales, flying fish, green turtles, mako sharks, noddies, right whales, sea cows (as well as sea lions, sea otters, and sea pickles), skipjack tuna, swordfish, tropicbirds, walrus, and yellow-bellied sea snakes. But more than this, King connects the natural history of ocean animals to the experiences of people out at sea and along the world's coastlines. From firsthand accounts passed down by the earliest Polynesian navigators to observations from Wampanoag clamshell artists, African-American whalemen, Korean female divers (or haenyeo), and today's pilots of deep-sea submersibles—and even to imaginary sea expeditions launched through poems, novels, and paintings—Ocean Bestiary weaves together a diverse array of human voices underrepresented in environmental history to tell the larger story of our relationship with the sea. Sometimes funny, sometimes alarming, but always compelling, King's vignettes reveal both how our perceptions of the sea have changed for the better and how far we still have to go on our voyage.
Praise for Ocean Bestiary: Meeting Marine Life from Abalone to Orca to Zooplankton (Oceans in Depth)
"King's quality of research is evident; his entries contain firsthand accounts from primary sources dating back to early Polynesian explorers, through contemporary accounts by navigators of seagoing vessels. His writing style is delightful and witty; he is a natural storyteller. Readers will also love his illustrations, which have the power to put smiles on faces. Highly recommended."
— Library Journal
"King profiles marine animals and tells of their notable encounters with humans, spanning Polynesian voyagers' first contact with New Zealand sea lions around 1200 CE through to a Japanese biologist's successful efforts to photograph a living giant squid in 2004. Some of the more amusing entries describe how a 1920s sea turtle hunter's practice of carving his initials into turtle shells inspired a marine biologist to conduct tagging studies on the animals' migration, as well as how whale sharks eat by ingesting krill-filled ocean water that gets filtered through 'twenty spongy, porous pads in the shark's throat.' . . . Charming illustrations."
— Publishers Weekly
"In medieval times, bestiaries offered beautifully illustrated texts of real or imagined creatures, accompanied by their natural history and moral lessons. In this work, the author takes a different approach. . . . These first-hand accounts come from books, rare manuscripts, oral histories, interviews, podcasts, newspapers, archaeological reports, and more, and include perspectives from John James Audubon and Christopher Columbus. . . . The book will capture readers' attention."
— Booklist
"At a time when the wonders of marine life need as many compassionate advocates as possible, Ocean Bestiary engages readers in the ocean's intricacies and significance, by telling curious, at times humorous stories of its animals as seen through the eyes of people who have spent time at sea—observing, sailing, fishing, and studying often in remote, unseen parts of the planet. The diversity of storytellers and human characters—with a particular focus on people from non-Western, non-white ethnic backgrounds—helps us to see that the ocean is for everyone. Fresh, accessible, and with entertaining illustrations, these are stories worth telling and well told."
— Helen Scales, author of "The Brilliant Abyss: Exploring the Majestic Hidden Life of the Deep Ocean, and the Looming Threat That Imperils It"