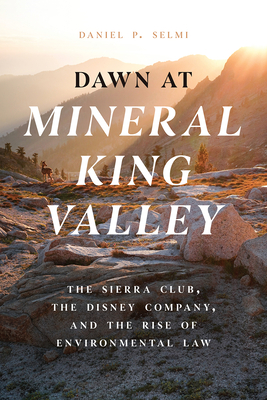 Dawn at Mineral King Valley: The Sierra Club, the Disney Company, and the Rise of Environmental Law
Publication Date:
July 6th, 2022
Publisher:
University of Chicago Press
The MIT Press Bookstore
2 on hand, as of Nov 30 10:32am
(ENVST)
On Our Shelves Now
Description
The story behind the historic Mineral King Valley case, which reveals how the Sierra Club battled Disney's ski resort development and launched a new environmental era in America.
 
In our current age of climate change–induced panic, it's hard to imagine a time when private groups were not actively enforcing environmental protection laws in the courts. It wasn't until 1972, however, that a David and Goliath–esque Supreme Court showdown involving the Sierra Club and Disney set a revolutionary legal precedent for the era of environmental activism we live in today.
 
Set against the backdrop of the environmental movement that swept the country in the late 1960s and early 1970s, Dawn at Mineral King Valley tells the surprising story of how the US Forest Service, the Disney company, and the Sierra Club each struggled to adapt to the new, rapidly changing political landscape of environmental consciousness in postwar America. Proposed in 1965 and approved by the federal government in 1969, Disney's vast development plan would have irreversibly altered the practically untouched Mineral King Valley, a magnificently beautiful alpine area in the Sierra Nevada mountains. At first, the plan met with unanimous approval from elected officials, government administrators, and the press—it seemed inevitable that this expanse of wild natural land would be radically changed and turned over to a private corporation. Then the scrappy Sierra Club forcefully pushed back with a lawsuit that ultimately propelled the modern environmental era by allowing interest groups to bring litigation against environmentally destructive projects.
 
An expert on environmental law and appellate advocacy, Daniel P. Selmi uses his authoritative narrative voice to recount the complete history of this revolutionary legal battle and the ramifications that continue today, almost 50 years later.
Praise for Dawn at Mineral King Valley: The Sierra Club, the Disney Company, and the Rise of Environmental Law
"One of the most exciting books about U.S. public lands policy ever written."
— Vail Daily
"Dawn at Mineral King Valley is a marvelous book. Daniel Selmi's voice is not only that of an authoritative legal scholar, but of an articulate, and forceful, storyteller. The saga of Mineral King as he tells it is an absorbing read and is a major contribution to environmental history in the United States."
— National Parks Traveler
"Selmi. . . conducted extensive research and included both the miscalculations and successes of all participants: the Sierra Club, Disney, the Forest Service, the National Park Service, and the Departments of Interior and Agriculture. Because of the author's meticulous analysis of this pivotal story, this book would be an excellent resource for students of public relations, environmental studies, political science, public administration, law, journalism, and more."
— Choice
"Selmi... ably explores changing attitudes toward the environment and one of the chief means Americans now use in disputes."
— Harvard Magazine
"Dawn at Mineral King is a fascinating account. . . sprinkled with historical gems and gripping storytelling."
— Sierra Magazine
"Dawn at Mineral King Valley is an entertaining and fast-moving narrative filled with a fascinating collection of environmental stewards, motion picture icons, senior civil servants, fervent lawyers and judges, and legendary politicians. With spectacular background scenery, Selmi tells the story of a single Supreme Court case that affected not just the future of the Mineral King Valley in the California Sierras, but the future of the environment of the entire country."
— Andrea Sheridan Ordin, former US Attorney, Central District of California
"Selmi tells the remarkable story of how, against all odds, one of America's iconic natural resources was saved from destruction just as the modern-day environmental movement was emerging and entering our legal framework. Focusing on an extraordinary array of characters, he conveys the human drama behind this epic environmental struggle. Lawyers and nonlawyers alike will thoroughly enjoy every twist and turn of this fascinating story."
— former US Senator Tom Udall, US Ambassador to New Zealand and Samoa
"The Supreme Court's 1972 decision in Sierra Club v. Morton is one of the seminal cases in US environmental law, but today few experts in the field know how it came to be. Selmi's deep research and fluid writing bring to light the colorful characters, the internal battles, and the legal intricacies. We see how the decisions of businesses, politicians, and environmental groups, the strategic choices of lawyers, and the philosophies of the justices shaped the case's outcome and still influence the law half a century later."
— Michael B. Gerrard, director, Sabin Center for Climate Change Law, Columbia Law School
"Well documented and researched, Dawn at Mineral King Valley plays out a controversy that is as relevant today as it was at the beginning of environmental consciousness. Selmi is a compelling storyteller, exploring the dynamic history of this critical case while weaving in the role of Walt Disney and his company. He provides not only important insight into competing goals but also a pathway to environmental improvement."
— John C. Cruden, former Assistant Attorney General, Environment and Natural Resources Division, US Department of Justice