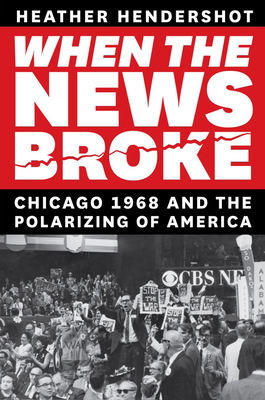 When the News Broke: Chicago 1968 and the Polarizing of America
Publication Date:
February 15th, 2023
Publisher:
University of Chicago Press
The MIT Press Bookstore
1 on hand, as of Dec 7 10:28am
(POLSI)
On Our Shelves Now
Description
A riveting, blow-by-blow account of how the network broadcasts of the 1968 Democratic convention shattered faith in American media.
 
"The whole world is watching!" cried protestors at the 1968 Democratic convention as Chicago police beat them in the streets. When some of that violence was then aired on network television, another kind of hell broke loose. Some viewers were stunned and outraged; others thought the protestors deserved what they got. No one—least of all Chicago mayor Richard J. Daley—was happy with how the networks handled it.
 
In When the News Broke, Heather Hendershot revisits TV coverage of those four chaotic days in 1968—not only the violence in the streets but also the tumultuous convention itself, where Black citizens and others forcefully challenged southern delegations that had excluded them, anti-Vietnam delegates sought to change the party's policy on the war, and journalists and delegates alike were bullied by both Daley's security forces and party leaders. Ultimately, Hendershot reveals the convention as a pivotal moment in American political history, when a distorted notion of "liberal media bias" became mainstreamed and nationalized.
 
At the same time, she celebrates the values of the network news professionals who strived for fairness and accuracy. Despite their efforts, however, Chicago proved to be a turning point in the public's trust in national news sources. Since those critical days, the political Right in the United States has amplified distrust of TV news, to the point where even the truest and most clearly documented stories can be deemed "fake." As Hendershot demonstrates, it doesn't matter whether the "whole world is watching" if people don't believe what they see.
Praise for When the News Broke: Chicago 1968 and the Polarizing of America
"[Hendershot] presents a vivid account of the events in Chicago. . . . Interspersed with Hendershot's detailed description of what happened in the convention amphitheater and the streets of Chicago is a careful analysis of network coverage of the convention. . . . Riveting."
— New York Review of Books
"An invaluable perspective on an ongoing threat to the free press and democracy."
— Booklist
"In When the News Broke, Hendershot marshals a deeply researched argument for how four turbulent days planted the seeds of public distrust in media that are still bearing bitter fruit. It is a fascinating look back at a dramatic American summer on which the sun has still not set."
— Ann Marie Lipinski, Harvard University
"It's all here: the dreams and the drama, the conflict and the violence, the ruin and the repercussions. Hendershot's account of the 1968 Democratic National Convention in Chicago is thoroughly researched and elegantly written. But When the News Broke is so much more than a retelling—Hendershot's powerful insights reframe the well-worn narratives, foregrounding white supremacy as central, not peripheral, to the convention. Beyond the bigoted commentary and racist asides of many journalists, Black disenfranchisement and Black subjugation are the heartbeat of the entire affair. And there's a bright line that runs from those turbulent times to this precise moment."
— Bill Ayers, educator and activist
"When the News Broke provides a complete and beautifully rendered picture of the 1968 Democratic convention in an utterly new way. Through her gripping storytelling, Hendershot shows how one harrowing week in Chicago cemented the idea of 'liberal media bias' in the minds of so many Americans for decades to come."
— Kathryn J. McGarr, author of City of Newsmen
"When the News Broke convincingly pinpoints the genesis of our lack of trust in the mainstream media as Hendershot walks us through a most consequential, if tragic, sequence in American political life. The book proceeds with clarity, insight, and even a touch of suspense. Readers ranging from citizens and scholars to journalists will all benefit from Hendershot's approachable account."
— Zac Gershberg, coauthor of The Paradox of Democracy
"Gracefully written, exhaustively researched, and chock-full of memorable quotations, When the News Broke takes the reader from the news desk to the convention hall to Michigan Avenue. Exploring that tumultuous year marked by assassinations, rioting, and division, Hendershot shows what the anchorman was saying and what television viewers were hearing were central to any understanding of the sixties and our own time."
— Edward H. Miller, author of A Conspiratorial Life
"In this entertaining, original, and compellingly narrated book, Hendershot illustrates the origins of allegations of 'liberal media bias' in television network coverage of the 1968 Chicago Democratic National Convention. A must-read for anyone interested in the current dialogue around 'fake news.'"
— Samantha Barbas, author of The Rise and Fall of Morris Ernst, Free Speech Renegade
"For roughly three decades three TV networks – CBS, NBC and ABC – competed for audience, ads and acceptance. . . . [they] came to Chicago knowing that 1968 was not an ordinary year, but not knowing what to expect. That's why the title is a double entendre. Breaking news is what the networks reported. The network system broke in 1968."
— Senior Women